For so many of us, block explorers were among the first blockchain-specific websites we visited doing our first baby steps of a Web3 journey.
In 2021, with the explosive growth of DeFi and NFT segments, reliable block explorers with rich toolkits are of paramount importance for businesses and users.
TL;DR
Block explorer is what your user knows about your blockchain. Without block explorers, a tiny fraction of blockchain nerds will be the only people who can check whether it isn't overhyped Google Spreadsheet.
Good block explorer is where the line between technology and marketing is blurred.
Blockchain Explorers 101: Explained by GetBlock
Blockchain explorer (or block explorer) is an online tool that makes visible all transactions that have taken place in this or that decentralized network. Ideologically, explorers should be referred to as search engines for the blockchains as they allow to view all events that occur in distributed ledgers.
Here's how popular block explorer BitQuery displays the number of Bitcoin transactions included into the blocks 695257-695266.
Typically, explorers are utilized to check the data about transaction status (whether it is confirmed/ rejected by blockchain), gas fees (for Ethereum), crucial network metrics (mining difficulty, hashrate, staking indicators), mempool size, and so on.
With block explorers, every user of this or that blockchain can create a 'receipt': a webpage with the information about his/her transactions verified by the entire hash power of the blockchain.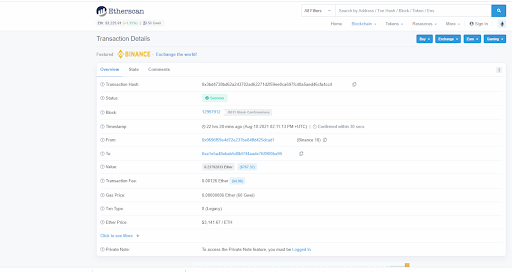 Here's how transaction data about value transfer in Ethereum (ETH) looks in Etherscan (addresses and transaction has are partially blurred)
Top-notch block explorers are very popular websites for the blockchain community. In Q3, 2021, blockchain.com witnessed 5.5 mln monthly visits, while etherscan.io is close to reaching 17 mln visits per month, according to Similarweb stats.
Why Does Your Blockchain Business Need Its Own Explorer?
Besides blockchains strictissimo sensu, every blockchain-focused project can have its own explorer, i.e. an easy-to-use tool for browsing through blockchain data.
Transparency
With block explorer, the process of adding blocks to your blockchain becomes visible. 'Don't-trust-verify' mantra of crypto OGs will be working for you: every analyst and researcher can see which transactions are included into this or that block.
Visibility
With a block explorer, your token, exchange or wallet becomes visible: everyone can track your growth and interaction with third-party services ('yield farming', liquidity providing, swaps, NFT minting and so on).
Your progress becomes visible when you run your own explorer.
Operability
As displayed above, your project will be able to issue the 'receipts' and certificates verified by blockchain. Instead of confirmation emails, your clients will send and receive cryptographically verified messages
Blockchain Explorers by GetBlock: Stay One Step Ahead
Top-notch node provider GetBlock is ready to empower your blockchain or decentralized application (dApp) with the native block explorer functionality. Like Etherscan for Ethereum and ERC-20 tokens, it will introduce the power of your project to the worldwide blockchain community.
In order to launch the block explorer for your needs, please, contact our customer success wizards in Telegram or Discord.