OP Labs, a heavy-hitting team of engineers behind Ethereum's L2 Optimism, released a ground-breaking tool to make interaction with Ethereum more resource-efficient and frictionless.
Drippie goes live to automate interaction with Ethereum's on-chain data
As per the official statement shared by Ethereum's veteran Kelvin Fichter, a novel mechanism dubbed Drippie is created by OP Labs.
Optimism does a lot of stuff on-chain. Managing all of these interactions securely can be a bit of a headache.

That's why we built Drippie, a trust-minimized Ethereum-native conditional transaction system.

July 25, 2022
Not unlike mainstream Web3 tool If This Then That (IFTTT), newly-launched Drippie combines various triggers with relevant actions.
Solidity engineers can program Drippie to react to various on-chain events by making sets of pre-determined actions. Each 'check-action' set in Drippie is called a 'drip'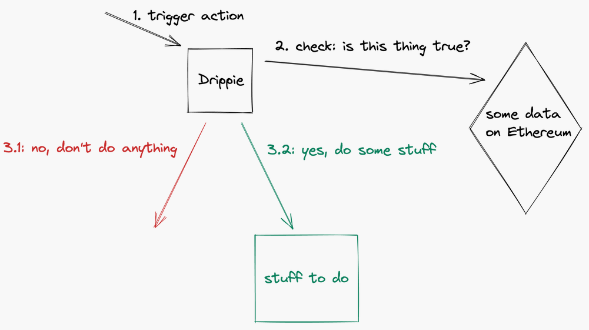 Image by Optimism
In a nutshell, Drippie allows Ethereum (ETH) transactions to be sent when the certain conditions are met.
Different drips, different use-cases
As of July 2022, Drippie mechanisms are integrated into various protocols including the likes of Gelato Network, Chainlink Keepers, or OpenZeppelin Defender AutoTasks.
Drippie operates in a flexible and trust-minimized manner: it never trusts the correctness of data provided by this or that on- or off-chain data provider.
Drippie has multiple use-cases: for instance, Balance Maintenance Drip mechanism can fill the balance of an account when it drops below a certain level.
Also, specific 'drip' can streamline and make more resource-optimized the process of interaction between Ethereum's L1 and L2 platforms.
Optimism (OP) nodes by GetBlock: Your reliable endpoint to Web3
GetBlock is always ready to provide decentralized applications of various types with reliable and secure connection to Optimism (OP) nodes. Since Q1, 2022, GetBlock offers APIs of Optimism (OP) dedicated nodes and shared nodes.
Optimism (OP) shared nodes - just like their dedicated analogues - can be accessed via WebSockets and JSON-RPC methods.
Optimism (OP) nodes are available in free and paid tariffs for GetBlock clients. Release of Drippie unlocks novel opportunities for all enthusiasts of Optimism (OP) and Ethereum (ETH).