The time has come to share the results of GetBlock's hard work with everyone. We're proud of our people and proud to say that the listed below results never settle our team, we are always searching for growth and development.
So here we go:
Integration with Algorand
Being a highly scalable and efficient network, Algorand is currently a popular choice among Web3 developers and GetBlock now offers instant access to Algorand's expanding ecosystem, thus making it possible to create various successful decentralized applications in an easy way.
Whether you are a beginner or an experienced developer you can now try out the Algorand blockchain's features under realistic conditions via GetBlock's API. With shared nodes for Algorand GetBlock clients share node infrastructure with other peers. Algorand dedicated nodes hosted by GetBlock are privately designed and tailored nodes.
Also now you have the ability to test our dedicated nodes including Algorand for only $50, go to the GetBlock account, choose the blockchain in the dedicated node section, and get a trial plan.
A great #web3 app starts by being built on a great blockchain... like @Algorand!

Learn more about #Algorand, the lastest chain supported by @getblockio, and resources for building the best #dApps 👇🏼https://t.co/LA2wzaao4Rhttps://t.co/Zma1i0ClcY pic.twitter.com/3fDo9AE5Gp

July 19, 2022
GetBlock Releases a Blockchain Explorer for NEAR Protocol
Finally, GetBlock announced that its first out-of-a-box blockchain explorer is now available for the general public. NEAR Protocol is the first smart contracts platform to receive its explorer by GetBlock.
New explorer by GetBlock allows everyone to track the most important events and metrics of NEAR Protocol via a newbie-friendly dashboard.
GetBlock's NEAR explorer demonstrates both basic (transaction details, block number, account balance) and advanced (validator statistics, staking details, and so on) data about the events in NEAR Protocol.
You can read more details in this article.
And we believe that there are more explorers by GetBlock to come.
GetBlock Receives Harmony's Ecosystem Grant for Explorer Development
As per the statement shared on Harmony's main forum, the representatives of the protocol chose GetBlock as a technical partner in creating a new-gen explorer for Harmony's ONE and HRC20, HRC721, HRC1155 tokens.
Within the framework of its massive $300M Ecosystem Fund, Harmony blockchain decided to support GetBlock's developers with a $50,000 grant. The grant is set to fuel full-stack development of an Etherscan-style explorer for Harmony. According to the approved roadmap, building Harmony's explorer from scratch takes about five months.
You can find all the details about it here.
In case you are a developer building on Harmony our dedicated and shared Harmony nodes are at your disposal.
Participation in the TRON Hackathon as a Partner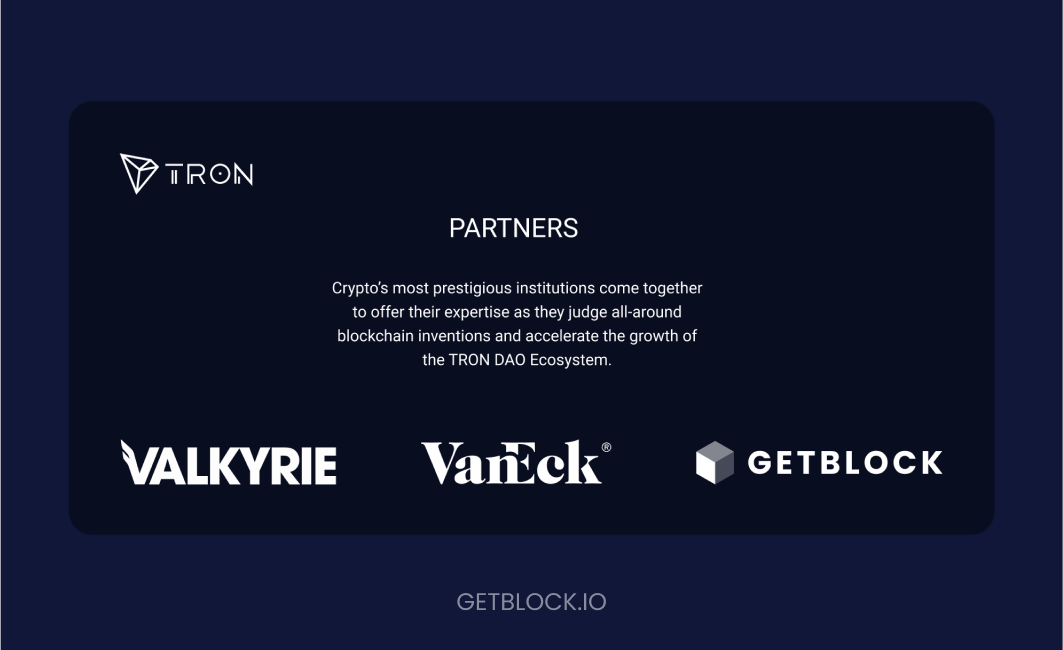 In July 2022, TRON DAO held a Season Two of its hackathon with four tracks: Web3, DeFi, GameFi, and NFT. In total, the prize pool is capped for $1 million for all tracks.
And the best of the industry were invited to TRON's Grand Hackathon jury. Our very own Aziz Amer Tash, CBDO at GetBlock, evaluated the applicants' projects together with ProgPoW inventor Kristy-Leigh Minehan and VanEck's Gabor Gurbacs.
🎉 Welcome @Aziz_GetBlock 🎉 Chief Business Development Officer of @getblockio to the #TRON #GrandHackathon2022 Season 2️⃣ judging panel 🔥 Aziz's committed to helping individual developers build high-quality blockchain applications faster.#DeFi 💹 #GameFi 👾 #NFT 🎨 #Web3 🌐 pic.twitter.com/fnTfIR4s9j

July 15, 2022
New Nodes Added
The following nodes were deployed and added to our platform in March:
To start using a shared node, please, register an account and get your API key which will be displayed on the dashboard together with the related data.
If you want to connect to a dedicated node of one of these or other blockchains, you can get them via your account or if you'd like a customized option feel free to contact one of our Business Development Managers.
Video Tutorials on How to Connect to Nodes via GetBlock
This month three new videos have been released on our official YouTube channel:
"How to Connect to Fantom (FTM) Node? Explained by GetBlock"
"How to Connect to Nervos Network (CKB) Node? Explained by GetBlock"
"How to Connect to Optimism (OP) Node? Explained by GetBlock"
They are made as step-by-step guides that will definitely help you to connect to our nodes easily within only 5 minutes.
Check out our Blog or join us on Twitter to be informed about our announcements.
Stay tuned and keep upgrowing with GetBlock!