Binance Smart Chain, Binance's smart contract platform, witnesses an unparalleled growth in terms of network activity in the last days of July, 2021. Here's what is likely contributing to it most.
TL;DR
Why is BSC rocketing? Nobody knows. Highly likely, this upsurge should be attributed to the developing overall spike of crypto prices, and starting GameFi segment FOMO.
What happens on the Binance Smart Chain (BSC)?
Starting from mid-July, Binance Smart Chain nodes started processing increasing transactional pressure. While on Jul.17, 2021, BSC handled 3.7 mln transactions in 24 hours, on Jul.28 this indicator almost touched 13 mln.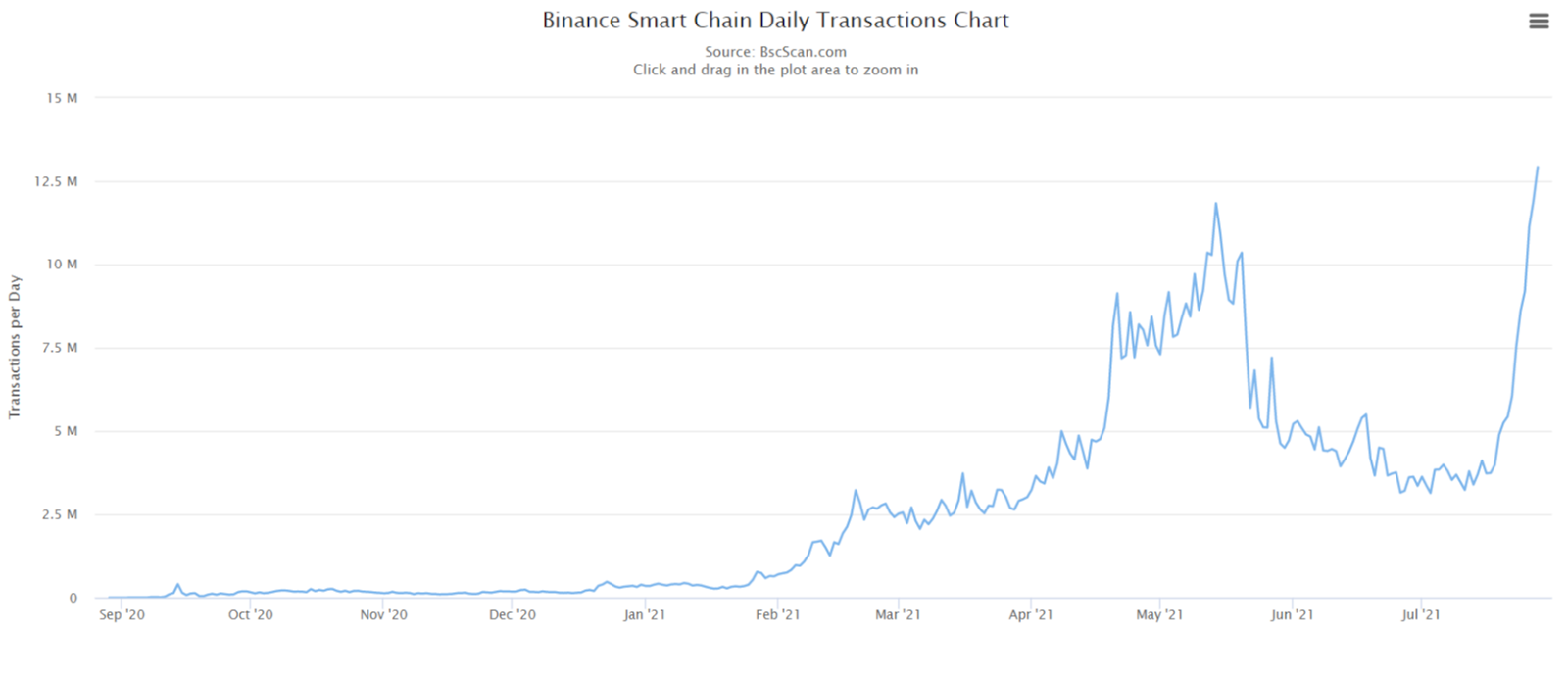 Image by BSCScan
Binance Smart Chain addresses count metric (net number of wallets that have either sent or received tokens via BSC nodes) also surges but at way less impressive pace. Since Jul.18, 2021, it spiked from 546K wallets to 873K wallets (60% up).
At the same time, gas usage also quadrupled while block time and size increased by 100% each.
Reason One: GameFi FOMO started
While Q3, 2020 is associated with the 'DeFi Summer' and Q1, 2021 will be remembered for the 'NFT Season', the first weeks of Q3, 2021 should be referred to as a first phase of 'GameFi mania'.
As covered by GetBlock previously, GameFi is a class of the on-chain protocols at the intersection of decentralized gaming, DeFi and NFT-centric tools. GameFi apps include 'Play-to-Earn' games and gamified DeFi protocols.
GameFi euphoria started with a massive pump of AXS, a native token of Axie Infiniti flagship gaming metaverse. In the last three weeks, AXS price added 1,100%.
#GameFi #BinanceSmartChain #BNB pic.twitter.com/QPCu2TGGJC

July 29, 2021
Developing GameFi craze as a catalyst for spiking Binance Smart Chain nodes' activity was mentioned by Binance CEO Changpeng 'CZ' Zhao. As BSC nodes empowers the dApps (including gaming ones) with high-performance and low-cost transactions, Binance Smart Chain will definitely be amidst top beneficiaries of GameFi craze: many decentralized games' devs moved their applications to BSC from Ethereum.
Reason Two: Bull Run Back?
For the first time since the mid-April massacre, net cryptocurrency market capitalization is surging again. According to Coinmarketcap's chart, aggregated cryptocurrencies market capitalization added 32 per cent in a few days: it surged from $1,182 trln to almost $1,6 trln.
All eyes now are on Bitcoin (BTC): the flagship crypto spiked from $29,800 to $40,100 in a week (+35%) printing seventh green daily candle in a row for the first time since December, 2021.
Bitcoin (BTC) growth catalyzed the increase of capitalization of all crypto heavyweights: Ethereum (ETH) added 29% while Binance Coin (BNB) surged 19%.
So rapid price upsurge typically draws the attention to short-term crypto trading: that's why the pressure on Binance Smart Chain nodes increases. Also, as BNB, ETH and Wrapped Bitcoin are crucial DeFi assets, the 'yield farming' becomes more profitable. That injects new life into farming tools that utilize Binance Smart Chain API.
GetBlock has earned a spot in the top rankings of BSC node providers. With GetBlock, Binance Smart Chain will be accessible for your dApps 24/7 via API key.
You're one click away from getting connected to Binance Smart Chain nodes. Just contact our customer support guru in Telegram or Discord.