This week, Bitcoin's new all-times-high at $67,000 was in the spotlight for crypto enthusiasts. GetBlock invites you to cut through the noise and chaos and check some other records of this turbulent week.
Bitcoin at $8,000, for U.S. residents only
When Bitcoin, a flagship cryptocurrency, was setting a new historic high at $67,000, its volatility spiked to unbelievable levels. On major spot exchanges, BTC price dropped from $64,000 to $60,000, but recovered promptly.
However, on Binance.US, the US-incorporated unit of the world's largest cryptocurrency exchange Binance, Bitcoin (BTC) flash-crashed to $8,000 level losing more than 88% of its price. This painful drop took place in no time: in less than 1 minute, Bitcoin price returned to 'normal' $63,000-$65,000 zone.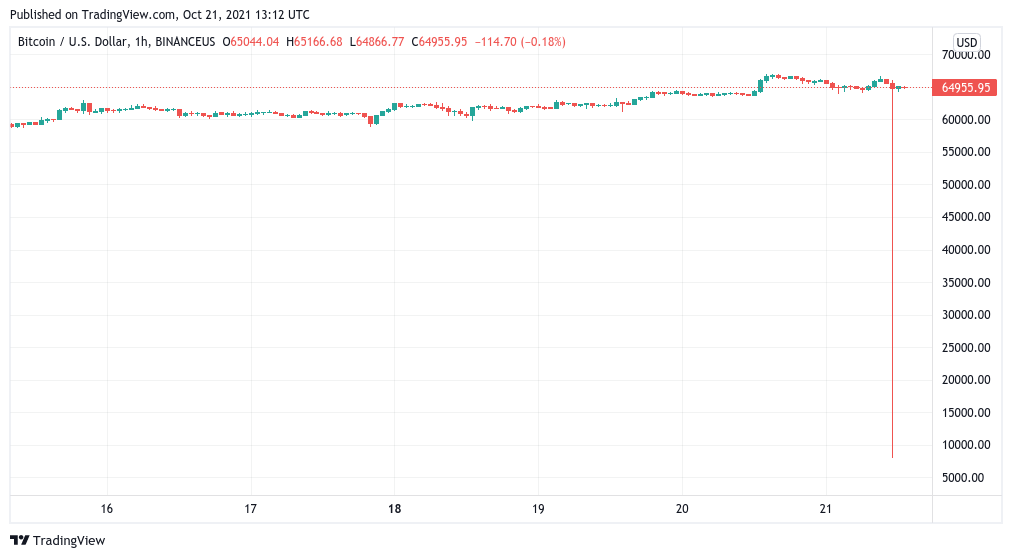 Image by TradingView
As explained by the representatives of Binance, this flash-crash was caused by the problems with a third-party data system of an institutional client connected to Binance.US via API instruments.
Crypto Twitter was guessing whether someone managed to buy Bitcoin (BTC) at $11,000. Eagle-eyed Redditors found at least one lucky trader who saw his order filled.

Image by ForkLog
This order was placed when Bitcoin (BTC) price was below $12,000.
Polygon was in danger of $850 million hack (potentially largest in DeFi history)
Top-tier smart contracts platform Polygon (MATIC) paid the largest bug bounty in history of the decentralized finances (DeFi) segment. According to the Immune.Fi bug disclosure platform, white-hat hacker Gerhard Wagner submitted the description of flow to Polygon (MATIC) in early October, 2021.
As per the explanatory post, the design of Polygon's Plasma scaling solution allowed the possibility of 'double spending': malefactor was able to resubmit the 'request' to withdraw Ethers or tokens from Plasma with slightly modified parameters. As such, an already validated transaction could be re-submitted for up to 223 times.
No user funds were lost

Thank you @g3rh4rdw4gn3r for responsibly disclosing the bug, and @immunefi for facilitating the bug bounty of $2,000,000

👷‍♀️Let's build and make web 3.0 more resilient from such future attacks.

You can read the detailed postmortem of the exploit here 👇 https://t.co/svhfo2cewS

October 21, 2021
Given the current volume of funds locked in Polygon's instruments, the total amount of Ethers tokens at risk exceeded $850 million. As such, potentially, this could be a largest hack in the entire DeFi history.
Mr. Wagner's bug bounty is also the unmatched one: Polygon (MATIC) paid him $2,000,000 plus Immune.Fi commission.
Have your eyeballs scanned, get Sam Altman's WorldCoin
Seasoned entrepreneur Sam Altman, former president of Y Combinator and angel investor in Pinterest, Reddit and Asana, introduced an unusual cryptocurrency concept.
According to the description of WorldCoin, its team is going to distribute the entire WorldCoin supply between the maximum number of users globally.
Introducing Worldcoin, a new cryptocurrency that will be distributed fairly to as many people as possible.

Details about how it works: https://t.co/DLcAmUA4u3 pic.twitter.com/xC3W2U6Xi3

October 21, 2021
To prevent new coins from being sent to robots and to abusers, its team implements the so-called "Proof-of-Personhood" mechanism. To receive Worldcoins, people should have their eyeballs scanned by Orbs, a purpose-made digital photos device.
Global crypto community slammed the very idea of the 'fair' distribution of crypto backed by world-leading VCs (a16z, 3AC, 1Confirmation, DCG, and so on) and the necessity of providing its team with biometrical data. Monero's former lead maintainer Riccardo Spagni claimed that Worldcoin recalls Orwell's 1984 dystopia.