According to a joint official announcement by two teams, decentralized oracle network Berry Data and top-notch node provider GetBlock inked a long-term partnership.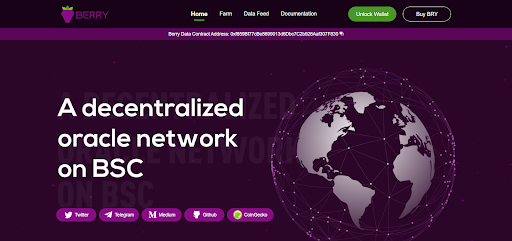 Image by Berry Data
For cutting-edge decentralized projects like Berry Data, the one-click access to high-performance network infrastructure is of a paramount importance. That's why partnering with GetBlock is yet another notable milestone of Berry Data's technology and adoption progress.
With GetBlock cooperation, Berry Data expands its impressive series of partnerships started in Q3, 2021. Namely, earlier this month, the network launched joint programs with ChipShop Finance algorithmic stablecoin operator and Gifted Hands, a next-gen platform for freelancers' collaboration.
All mentioned partnerships are focused on major security and performance upgrades for all parties involved. Therefore, Berry Data strengthens its position in the segment of decentralized data oracles.
Bringing accurate and cost-efficient data oracles to BSC: How Berry Data poaches on Chainlink's turf
Launched amidst 2021 DeFi euphoria, Berry Data project addresses the sphere of decentralized data oracles, e.g. specific on-chain mechanisms that broadcast accurate price feeds to decentralized finances (DeFi) protocols, exchanges, lending/borrowing ecosystems, wallets and so on.
Using decentralized oracles prevents blockchain-based projects from 'flash loan' attacks when malefactors manipulate the tokens prices.
Berry Data project is 100% open-source so that it pioneers the concept of 'transparent community-verified price oracle' on Binance Smart Chain (BSC), the fastest growing smart contracts network worldwide.
Berry Data's tokenomics is built around BRY, its core native utility and governance asset. BRY token can be used as a payment method for Berry Data services or as a governance voting instrument. Also, it can be staked or utilized for community growth programs.
BRY holders can also benefit from their idle riches by providing liquidity in BNB- and USDT-based liquidity pools on PancakeSwap (CAKE), a largest BSC-based DeFi. BRY-BNB liquidity pools are also active on Alpaca Finance and Autofarm, two mainstream BSC-based 'yield farming' environments.