Bitcoin network now fully recovered from Chinese anti-miners witch-hunt.
Bitcoin difficulty is back above 20T while the N.Y. authorities issue another 'cease-and-desist' order to cryptocurrency services.
Bitcoin difficulty in green for four months in a row
Bitcoin network difficulty is a metric that displays how it is difficult to add one new block to the first blockchain.It is adjusted fortnightly to ensure the block time stability of the flagship cryptocurrency. At any time, a Bitcoin block should be mined for 10 minutes.
Thus, if too many miners are interested in joining the Bitcoin network, its mining difficulty increases. Otherwise, when Bitcoin miners are shutting down their rigs, Bitcoin network difficulty decreases.
Yesterday, on Oct. 18, 2021, Bitcoin (BTC) network difficulty increased by 0.53%. As such, it is back above 20T for the first time since China intensified its crackdown in crypto.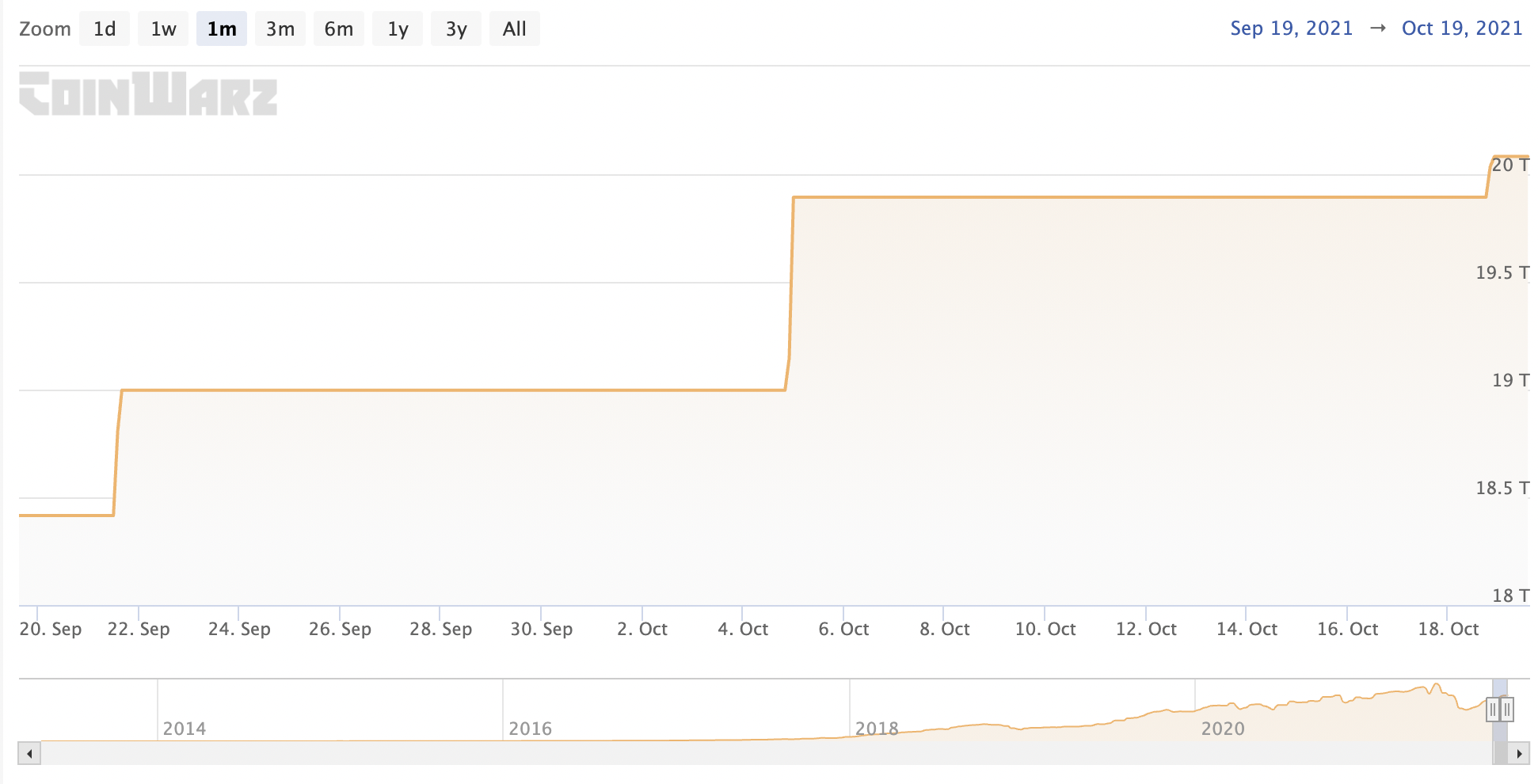 As covered by GetBlock previously, Chinese authorities banned all cryptocurrency transfers and Bitcoin mining in Q2-Q3, 2021. Therefore, local miners were forced to move their rigs outside the country, to the U.S., Kazakhstan, and the Russian Federation.
Why is this adjustment crucial? As the Bitcoin network returns to pre-exodus levels, we can be sure that the lion's share of Bitcoin miners successfully migrated to new safe havens. Yet again China failed to ruin the bitcoin mining industry.
Two crypto lending platforms should leave NY: Attorney General
New York Attorney General Letitia James has ordered two major multi-purpose cryptocurrency platforms, Nexo and Celsius Network, to shut down their operations in the state of New York.
According to the order published by New York Attorney General (NYAG) office, the cryptocurrencies available on the platforms should be regulated as securities. As such, the services of Celsius Network and Nexo can be associated with unregistered securities trading.
Alongside with that, the representatives of Nexo crypto lending platform stressed that these announcements by regulators are actually nothing-burgers as:
Nexo is not offering its Earn Product & Exchange in New York, so it makes little sense to be receiving a C&D for something we are not offering in NY anyway. But we will engage with the NY AG as this is a clear case of mixing up the letter's recipients. We use IP-based geoblocking
Blockchain VC veterans bought Sophia The Robot for $644K
Algorand-centric blockchain venture conglomerate Borderless Capital announced that they just bought a picture of the most popular robot ever, so called Sophia The Robot, that was released as a non-fungible token.
I'm over the moon that @borderless_cap and @sothebys are trusting me as an artwork! And that I can mint NFTs on @Algorand, since they are all about only carbon-negative blockchain. 🍃 🤖 ❤️ @hansonrobotics @cityxvenice @ivgalleryla #SophiaFacingTheSingularities pic.twitter.com/Tk6Yn9898P

October 18, 2021
Unlike the majority of digital collectibles, this picture dubbed Sophia Facing the Singularities, also has a physical copy. With a starting bid of 3.8 million HKD, it was obtained by Borderless Capital for 5 million HKD or $ 644,177.
David Garcia, CEO and Managing Partner of Borderless Capital, shared that he is thrilled about this purchasing and its role in the progress of Algorand smart contracts platform:
We are honored to welcome Sophia to the Borderless Capital team and to the Algorand ecosystem as a first class citizen.We are very excited about this first step that is part of our 10 year commitment to collaborate with Hanson Robotics.