Since the inception of the blockchain-based cryptocurrency market, the digital asset world has seen fast-paced growth and an influx of investors in a short period of time. Naturally, the hype surrounding blockchain technology has brought a number of significant products as well as some that do not have any underlying commodity or ready-to-sell services to provide value.
Why is it important to pay attention to real-world impact?
Applications of Blockchain // Source: Medium
Blockchain is described as a technology with unlimited potential; however, there is no denying that the technology is still short-lived in order to be able to tell if some projects have real-world value beyond speculation.
Whereas the current market is offering a huge variety of different-purpose products, including NFTs, metaverses, DAOs, not all of them are getting a stamp of approval from the public. Not too long ago NFTs and metaverses were the talk of the town. What we see today is a decrease in demand and popularity for those types of platforms. Thus, for many investors, the real-world impact is what counts.
Why are crypto projects useful?
Blockchain technology is evolving very rapidly. It has affected various businesses, with one of the most crucial features being a safe and transparent way of storing data. Corporations and smaller companies working with transactional data can benefit from implementing blockchain technology into their decentralized software. Not only that, blockchain users can save time and money by seamlessly attaching on and off-chain products.
What's more, such projects can be a great tool when it comes to starting trusted crowdfunds, secure authentication, increasing document confidentiality, etc. Besides, NFTs - the blockchain-based non-fungible tokens - have a wide range of utility in the real world. For example, an NFT can be linked to a physical asset (mostly luxury items), help track movements of goods in the supply chain, and act as equivalent to paper documents. The list goes on and on.
In this article, we are going to focus on the market players with significant real-world practicality.
1. VeChain
VeChain is a highly robust blockchain-based solution designed for monitoring and managing supply chain activities via the help of disruptive ledger technology. Initially proposed in 2015, VeChain works with digitized real-world companies and clients. This is possible through linking the API to the network's application layer. Thus, the information is written into the blockchain and is, therefore, used for further supply chain management. Notably, VeChain focuses on smart contracts for real production operations. VeChain highlights the importance of transparency in business.
2. Polkadot
Polkadot, a zero-layer interoperability platform, has come out with the concept of parallel chains, also known as parachains. The Polkadot 'multichain', therefore, is able to handle several chains simultaneously. Multiple blockchains, connected by a single Relay Chain, run alongside each other and exchange data in a seamless manner, granting Polkadot top-notch flexibility.
3. Helium
Helium is a long-range network designed to provide wireless coverage for IoT devices. Also known as "The People's Network", Helium consists of multiple hubs with the information provided by miners – the so-called wireless hotspots. By implementing the uniquely designed Proof-of-Coverage consensus algorithm, Helium is able to use radio frequency waves in order to produce proofs.
4. 3air
3air describes itself as "the world's first blockchain platform that helps individuals and businesses thrive on Web3 broadband internet". 3air's initiative to connect Africa to high-speed internet by using a method under the name of K3 Last Mile to cover a 50 km radius around the continent with 150 TV stations and IP telephony seeks to also focus on cost-efficiency and decentralization, as well as the ability to use DeFi-based banking services.
5. ChainLink
ChainLink is essentially a tamper-proof middleware that lets blockchain-based businesses interact with off-chain services. Launched in 2018, ChainLink is a widely used oracle network with smart contract support. The oracles work on top of Ethereum, therefore their security is supported by Ethereum mainnet.
6. Audius
Audius is a blockchain-based streaming platform designed for music labels and independent musicians. Audius lets users support creators by making donations, purchasing NFTs and non-transferable tickets, or simply streaming their work. Audius is a unique project for music lovers around the world, which aims to give its users full control over their created art.
7. Filecoin
Launched in 2017 by Protocol Labs, Filecoin is a decentralized peer-to-peer cooperative file storage platform. Via Filecoin, users can not only store but also retrieve digital data at any given moment. Filecoin utilizes its own native currency FIL to pay for services provided by the network. By integrating the latest blockchain technology into its infrastructure, Filecoin employs Proof-of-Replication and Proof-of-Spacetime consensus algorithms to verify stored information.
8. Theta Network
Theta Network is a decentralized video streaming platform, launched in 2017 by Theta Labs. Theta encourages fair representation of content creators' impact on the current popularity of streaming services by enabling P2P video streaming with rewards for creating and promoting your content to other users.
9. BAT
BAT (Basic Attention Token) runs on the Brave network and strives to change the way we look at internet advertising. Users of Brave.com can choose to be shown Brave ads and receive BAT tokens from advertisers in return as a way to get compensated for paying attention to the advertisements.
10. ICP
Launched in 2021 by DFINITY Foundation, ICP (Internet Computer) is an open-source decentralized blockchain network, which aims to erase the boundaries of Internet functionality and decentralization provided with the help of smart contracts. ICP encourages developers and ordinary Internet users' support. The network strives to transform the Internet as we know it today into a functional computing platform.
Final thoughts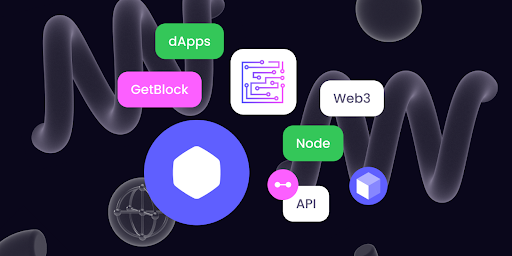 GetBlock // Source: GetBlock
Despite the fact that some crypto-based products are designed to have a short-lived success, there are also numerous blockchain-built and -run projects that prioritize utility over speculation. GetBlock can help Web3 developers create the next generation of most utilized projects by offering API-driven nodes infrastructure for over leading 40 networks, including Bitcoin, Ethereum, BNB Chain, Cardano, Solana, NEAR, etc.