Polygon (MATIC), a smart contracts platform and interoperability protocol for EVM-compatible networks, has always been among the most popular endpoints offered by GetBlock. But this January marked an unparalleled spike in developers' enthusiasm for integrating its nodes.
Polygon API endpoint becomes red-hot amidst 'Play-to-Earn' mania
Our data analysts witnessed a notable spike in activity on Polygon these last few weeks. As of today, 40 projects (decentralized applications) are leveraging GetBlock's Polygon endpoint for their operations.
In terms of shared nodes, 1200 developers are harnessing Polygon's infrastructure by GetBlock for their projects each day.
To provide context, one year ago, we were offering our nodes to 50 developers per day (Q1, 2021 data), while in the previous quarter, 900 devs were using GetBlock's Polygon API on the daily basis.
Image by GetBlock
The chart below shows that GetBlock can easily handle the workload of 30 requests sent to MATIC nodes every second. You can observe that Polygon's API endpoint always works like on steroids.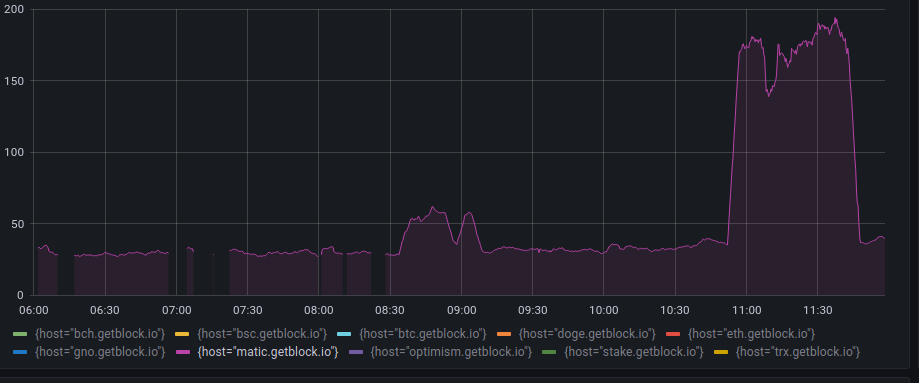 Image by GetBlock
This euphoria can most likely be attributed to the ongoing hype around NFTs and GameFi protocols.
Polygon API: Smart Contracts, Reinvented
Since its hotly anticipated mainnet launch in May 2020, Polygon has cemented itself as one of the fastest and most resource-efficient blockchains in the Web3 segment.
Polygon managed to successfully address Ethereum's scalability bottlenecks, amplified by the 2020-2021 price rallies, such as slow transactions and exorbitant gas fees. Polygon leveraged its Proof-of-Stake (PoS), an elegant technology that reduces transactional pressure on the Ethereum (ETH) mainnet.
According to data by the DeFi Llama tracking platform, as of January 2022, Polygon is the third largest smart contracts network by the number of active protocols: a total of $4,46 billion locked by 180 Polygon-based dApps.
Polygon and GetBlock: What we achieved so far
At GetBlock, we offer shared and dedicated Polygon nodes with 100% uptime. Both mainnet and testnet are available with GetBlock: our API endpoint is suitable for both Polygon-centric businesses and R&D products.
Our clients can access Polygon with JSON-RPC and WebSockets methods. Also, by request, we can roll out archive nodes for sophisticated Polygon users.
In a recent video, we demonstrated how our clients can access Polygon nodes with the 'Get Transaction by Hash' command.
About GetBlock
Launched in 2019, GetBlock provides dApps with secure and fast connection to major blockchains through API. Our array of endpoints includes 40+ networks in mainnet and testnet.
GetBlock offers its clients shared, dedicated, and archive nodes; REST API, WS, and JSON-RPC methods can be utilized to reach a blockchain.