Binance Smart Chain (BSC) nodes, the core elements of the world's fastest-growing blockchain, are witnessing increased activity amidst the developing wave of NFT mania.
TL;DR
Binance Smart Chain nodes activity spiked due to the interest in NFTs and overall crypto capitalization upsurge.
BSC nodes activity gets back to growth: from 5M to 8M in six days
As major cryptocurrencies are expanding their Q3, 2021 gains, so does the activity on mainstream smart contracts environments. Binance Smart Chain transactions metrics started surging again on August 25th, 2021.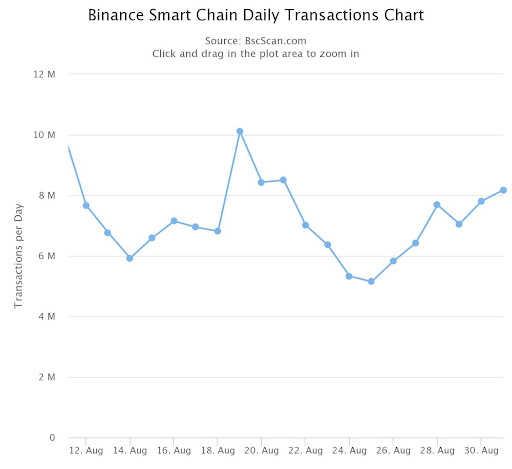 Aug.25 was a local bottom of Binance Smart Chain nodes activity: all BSC accounts authorized 5 147 963 transactions, the lowest result since mid-July. However, an increased interest in the NFT segment injected new life into the BSC activity and pushed it over 8,1 million tx/s by Aug.31, 2021.
As such, BSC transactions count added almost 60 per cent in six days.
On Jul.31, 2021, Binance CEO Changpeng Zhao shared that he is sure that BSC can process more than 20 millions of transactions, which is orders of magnitude higher than that of its rivals.
#BinanceSmartChain handled 10M+ transactions yesterday.#Ethereum handled 1.2M.

July 31, 2021
Other chains are also seeing an increased activity. For instance, Ethereum (ETH) nodes processed 1 212 829 transactions on Aug.31, 2021 which is 8,3% higher that local bottom.
Polygon (MATIC) nodes activity added almost 37 per cent in six days, printing the similar pattern to BSC's one.
Layer-2 scaling is on its way to Binance Smart Chain (BSC) nodes
With such an impressive transactional pressure, top-profile experts in EVM-compatible chains foresee the imminent congestion of Binance Smart Chain similar to the one that made Ethereum (ETH) nodes collapse amidst May, 2021 euphoria.
As such, all eyes are on Layer-Two solutions that can be deployed to Binance Smart Chain mainnet. Once released on BSC, L2 scaling solutions will address all its major bottlenecks.
Unlike Ethereum that has a clutch of L2 scalability solutions (from Plasma to Optimism, Arbitrum, Validium, Starkware, and so on), the experiments with BSC scaling are still in their infancy.
Singapore-based exchange ZKSwap focused on Ethereum's L2 scalability, recently become the first trading service to launch on Binance Smart Chain's Layer 2.
Hey it's Alex Lee, Lead Dev at ZKSwap.

Today was a big day for the team and I.

We made history as the first Layer 2 DEX to launch on the @BinanceChain Mainnet.

(1/11)

August 25, 2021
This platform utilizes zero-knowledge proofs (also zk-proofs) to roll out the data about multiple transactions to the single one.
BNB lagging behind new altcoin season?
Alongside Binance Smart Chain (BSC) node usage rocketing, the price of its core utility asset Binance Coin (BNB) still has the space for growth amidst developing large-caps' season.
During the last few days, a number of Ethereum (ETH) killers (Solana, Avalanche, Celo) witnessed the growth of their underlying assets SOL, AVAX, and CELO respectively.
Binance Coin (BNB) upsurge still looks very far from impressive: it added only 9 per cent to its local low. As big money flows to large-cap altcoins, binance coin (BNB) has all chances to surpass mid-May historical ATH close to $700.
GetBlock has earned a spot in the top rankings of bsc node providers. GetBlock offers shared and dedicated nodes for Binance Smart Chain on mainnet and testnet.
You're one click away from getting connected to Binance Smart Chain nodes. Just contact our customer support guru in Telegram or Discord.