Bitcoin, the largest cryptocurrency, briefly tumbles below $40,000 for the first time since Sept.22, 2021. However, some indicators show that the two-month bearish trend might be close to ending.
Bitcoin finds 'pivotal' support at $40,000: Fidelity's Jurrien Timmer
Mr. Tummer, an expert in macro investments at Fidelity, claimed that Bitcoin (BTC) dropped to a major support level near $40,000. Near this level, Bitcoin becomes 'oversold'. Three TA indicators confirm this status; Stochastic Relative Strength Indicator (Stochastic RSI) is the most reliable of them.
is $40k the new $30k? The Fed's hawkish stance on inflation has had broad impact. With the liquidity-driven momentum plays under pressure, it's not a total shock that crypto has corrected. So what's next for bitcoin? (THREAD) pic.twitter.com/vnPiKY82x1

January 11, 2022
Stochastic RSI indicates the power of momentum for bulls or bears; while it drops below 20/100, it signals the 'overbought' status. This might serve as an indicator of the coming bullish reversal of Bitcoin (BTC) price.
Also, the zone between $30,000 and $40,000 is a crucial one for many Bitcoin-friendly corporations. As GetBlock.io covered previously, many Bitcoins (BTC) were purchased by corporations near this zone.
5 out of 20 top world's finances websites are crypto services
According to the report shared by leading U.S. Web3 media Blockworks, crypto websites exploded onto the top rankings of financial domains worldwide. Binance's Coinmarketcap, a flagship crypto prices browser, is surpassed only by Paypal's main domain.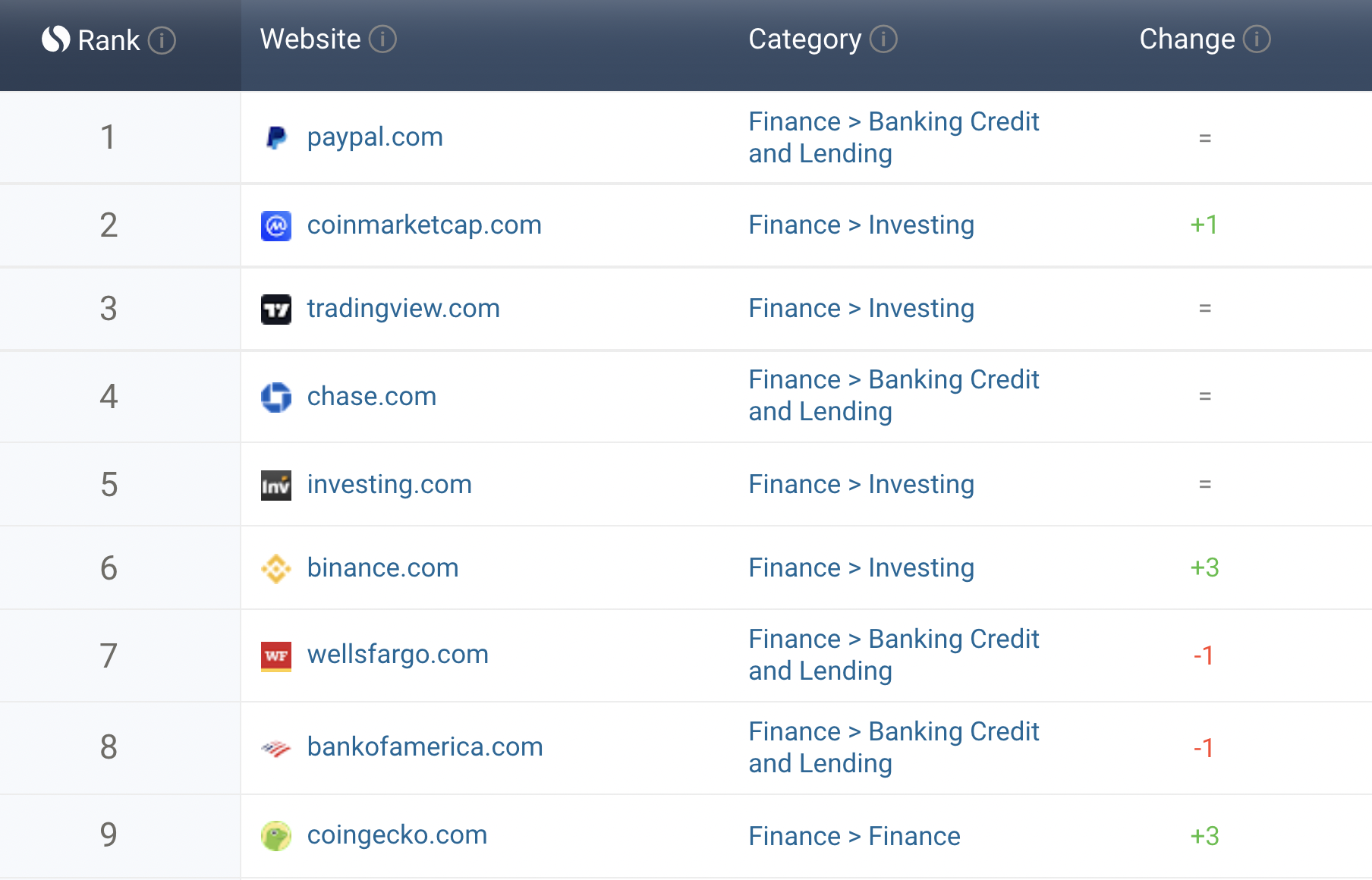 Image by SimilarWeb
Two more crypto websites, the world's largest cryptocurrencies exchange platform Binance and Coinmarketcap's main competitor Coingecko are also listed in the Top 10.
Coinbase, a major US-based crypto exchange service and custody ecosystem, holds 15th position while the most popular marketplace for non-fungible tokens, OpenSea, is ranked #17.
It should be added that leading crypto media Coindesk and Cointelegraph booked spots in the Top 100.
NEAR price surges to a new all-time high on investment announcement
The price of NEAR, a core native asset of high-performance sharded blockchain Near Protocol, spikes to new historic highs.
Image by CoinMarketCap
At printing time, NEAR price is 7% up in the last 24 hours. It surpasses the $19,3 level on a crucial announcement about funding round completion. Today, on January 13th, 2021, the NEAR Foundation closed its another $150 mln funding round.
Su Zhu's Three Arrows Capital led the round while VC heavyweights Mechanism Capital, Dragonfly Capital, Andreessen Horowitz (a16z), Jump, Alameda, Zee Prime, and Amber Group also backed the ecosystem in its fundraising efforts.
Near Protocol is on the eve of launching its own DeFi funding ecosystem $350 mln from the NEAR foundation will fuel the growth of DeFi protocols that leverage its smart contracts.
As per Coindesk's sources, some participants of the latest funding round of NEAR Protocol are also planning to supercharge Near-based protocols as liquidity providers.
Together with Solana, Avalanche, Fantom, and Terra, Near Protocol is one of the most promising 'Etherum killers', i.e. the Layer-One smart contracts systems.