Amidst Bitcoin (BTC) euphoria, the crypto trading scene is getting over-saturated by 'passive income' and 'secure investing' opportunities. Crypto trading bots are among the most popular automated instruments for traders with various levels of expertise.
Leading trading bots of the crypto segment are accessing blockchain nodes through the node providers assistance. Thus, we prepared the shortest introduction to this concept, its problems and opportunities.
What are cryptocurrency trading bots
Trading bots should be referred to as a class of AI-powered instruments for automated trading. They track the indicators of the market for given trading pairs (for instance, BTC/USDT, ETH/USDT) and place buy/sell orders based on the results of this analysis. In a nutshell, it is a software program that buys and sells cryptos on behalf of its owner.
Crypto trading bots segment gained impressive traction during the 2021 bull run. Usage of bots eliminates the need for traders to monitor price action, trading volume, and funding rates manually.
Trader can only adjust the strategy of his/her bot periodically. Also, trading bots advance the risk management and can prevent derivatives' positions from getting liquidated during price spikes.
Tech-savvy traders can develop their own bots on Python. However, 'purchasing' trading bots from reliable vendors remains the most common opportunity for crypto holders to try automated trading.
How to choose reliable crypto trading bot
'Purchasing' trading bots means obtaining a licence to utilize this or that trading bot within predetermined periods and with certain limitations. While choosing a trading bot, users should consider following points:
platforms supported: good trading bots should allow trading across a variety of centralized exchanges (Binance, KuCoin, Huobi) or blockchains (Ethereum, Binance Smart Chain);
trading pairs available: it's much more convenient to work with bots that support numerous currencies instead of one or two;
reputation: reliable bot should have at least 100+ reviews from real users on multiple IT- and blockchain portals;
feedback and community: good trading bot has 24\7 online customer support and multi-platform community managements (Twitter, Telegram, Discord).
The only major warning that should be considered by those interested in purchasing crypto trading bots - beware of Ponzi schemes and scams that are promoted as trading bots.
So, the entire set of basic anti-fraud recommendations are valid: stay away from ultra-high APYs, '100% guaranteed income', and be super-cautious about the services focused on referral programs.
Popular trading bots of 2021
Most advanced cryptocurrency trading bots are executing orders on-chain: they work with blockchains directly instead of interacting with accounts on centralized exchanges. So does Trade Butler Bot that is focused on bringing the automatization of trading to decentralized exchange.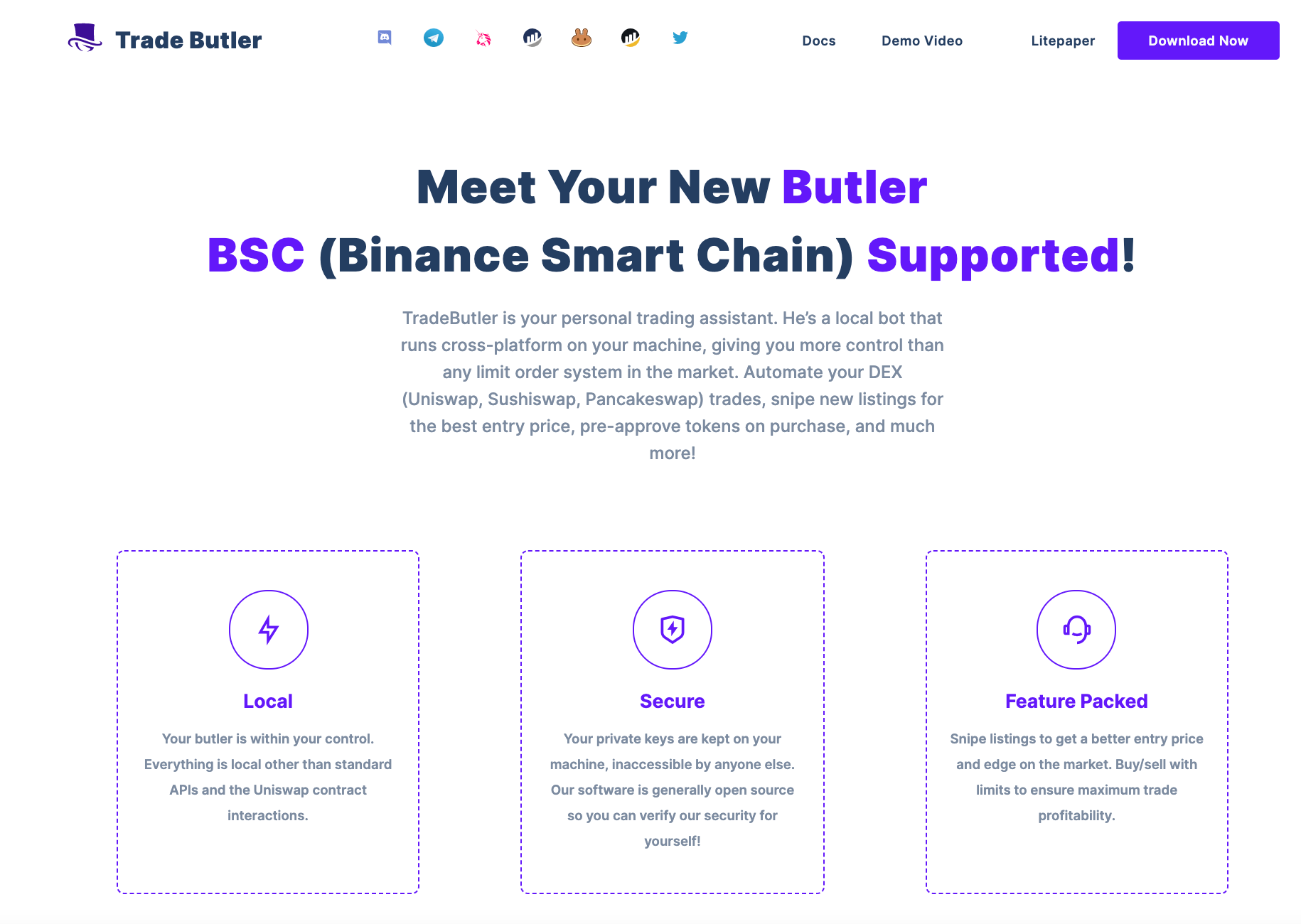 Image by Trade Butler Bot
In Q2, 2021, Trade Butler Bot works with two main smart contracts platforms, Ethereum (ETH) and Binance Smart Chain (BSC).
Reliable nodes connection provided by GetBlock ensures seamless, secure and intuitive experience of AI-fueled trading for all Trade Butler Bot customers.
Segment of 'centralized' trading bots that interact with exchange accounts is led by 3 Commas Bot and Humming Bot. Both services support a plethora of trading pairs and allow eased adjustment of trading strategies.
Bottom line
Are crypto trading bots legit? Yes, they are.
Trading with the assistance of an on-chain bot can significantly increase the gains and optimize the expenses of the trader. Meanwhile, just like with any other crypto-related services, newbies and full-time traders should stay vigilant as scams are popping here and there.