Nervos Network (CKB) jumped overnights as the network announced the mainnet launch of its L2 solution "Godwoken", Oblivion NFT marketplace and the integration of Ethereum-compatible Celer cBridge
Nervos Network (CKB) adds 35% in no time amidst bear market
Nervos Network (CKB) gained momentum of over 35% after it was announced that the network's Godwoken Level 2 scaling solution and a brand new Oblivion NFT marketplace had been launched.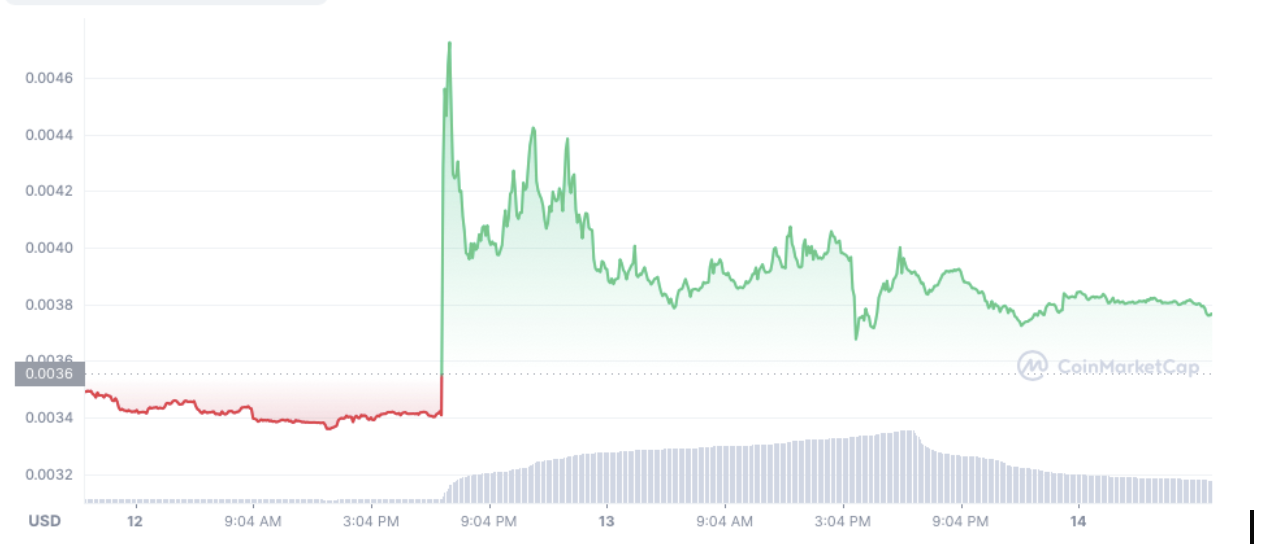 Godwoken L2 scaling solution goes live on mainnet
On June 29th, Nervos announced the official launch of its second layer solution under the name Godwoken on the network's mainnet. Godwoken is fully compatible with Ethereum Virtual Machine and the Optimistic rollup technology, meaning developers can easily transfer (port) their dApps on to the Nervos network and increase interoperability with other heterogeneous platforms.
📣 We're excited to announce that the #Nervos Layer 2 - Godwoken is now on Mainnet, packed with improvements for all to enjoy! 🎉

⚙️ 100% EVM compatible
📝 Zero whitelisting
✨ Incredibly low fees
🏎️ Fast transactions

Learn more 👉 https://t.co/x6aTl6QLDv pic.twitter.com/Ldzq11Jqzc

June 29, 2022
The Polyjuice backend is another key component of Godwoken, which leverages support for Ethereum compatibility on top of CKB L1.
Oblivion NFT marketplace launch
What's more, Nervos Network released a new NFT (non-fungible token) marketplace. Oblivion went live on the mainnet in early July.
👾 The next generation of NFT marketplaces is here! 👾

Introducing @OblivionNft ! With one of the lowest transaction fees of any marketplace AND with NEW features dropping constantly, what are you waiting for?

Check them out here:
✅ https://t.co/8xJshlWgPj

July 11, 2022
The NFT marketplace is planning to constantly update the list of features for participants, with no code NFT deployer already available at the moment.
Celer cBridge integration
Nervos Network has partnered with Celer Network to enable the new Celer cBridge for transferring assets between Ethereum and Nervos.
📢Excited to announce that we've completed integrations and now support bridging on @NervosNetwork's #Godwoken!
⛓️🌉⛓️You are now able to bridge $USDT, $USDC, $ETH, $WBTC, and $DAI between @ethereum and #Godwoken in a fast, secure, and low-cost fashion!https://t.co/swiAJ2WZLa

July 12, 2022
The new bridge is currently available in Tether (USDT), USD Coin (USDC), Ether Wrapped Bitcoin (WBTC), and Dai (DAI); however, the list of transferable assets will expand in the future.
GetBlock's blockchain nodes for Nervos Network (CKB)
GetBlock is one of the pioneer blockchain nodes companies to offer battle-tested robust technical infrastructure. With the help of GetBlock, Nervos Network users are able to connect their decentralized businesses with the CKB network in a seamless way.
Nervos Network shared nodes provided by GetBlock are a protocol-agnostic technical layer designed to help developers experiment with their dApps under realistic blockchain conditions. CKB shared nodes are allocated between peers, which makes it the perfect first-entry solution for beginners.
On the other hand, GetBlock's Nervos Network dedicated nodes are specifically designed according to the requirements of each client. CKB dedicated nodes come with an unlimited number of requests and no rate limit.
GetBlock is a top-notch blockchain nodes provider and an official partner of Nervos Foundation. Need blockchain nodes explained? Want to learn more about investing in blockchain nodes? Do not hesitate to contact us!