What is special about this 'Ethereum killer' by Changpeng Zhao?
Today, on February 19, 2021, Pancake Swap, a decentralized financial protocol on Binance Smart Chain surpassed long-term industry leader Ether-based Uniswap for the first time in terms of the daily trading volume. Thus, it is the right moment to figure out why this 'corporate chain' became so popular.
GetBlock has added Binance Smart Chain to its toolkit of supported blockchains. As such, the exploration of DeFi hosting by world-leading crypto ecosystem Binance has never been so easy.
Binance Smart Chain: Basics
First, Binance Smart Chain is a programmatic blockchain that is able to host decentralized applications (dApps) based on smart contracts. Binance introduces it as a parallel chain to Binance Chain, a native decentralized trading engine by Binance. Binance Chain hosts Binance DEX, a non-custodial trading unit of Binance.
Whitepaper of Binance Smart Chain was unveiled on April 17, 2020. From its day one, BSC developers were laser-focused on maximum compatibility with Ethereum Virtual Machine. This bet proved to be really smart: typically Ethereum killers (Cardano etc.) don't offer such opportunities.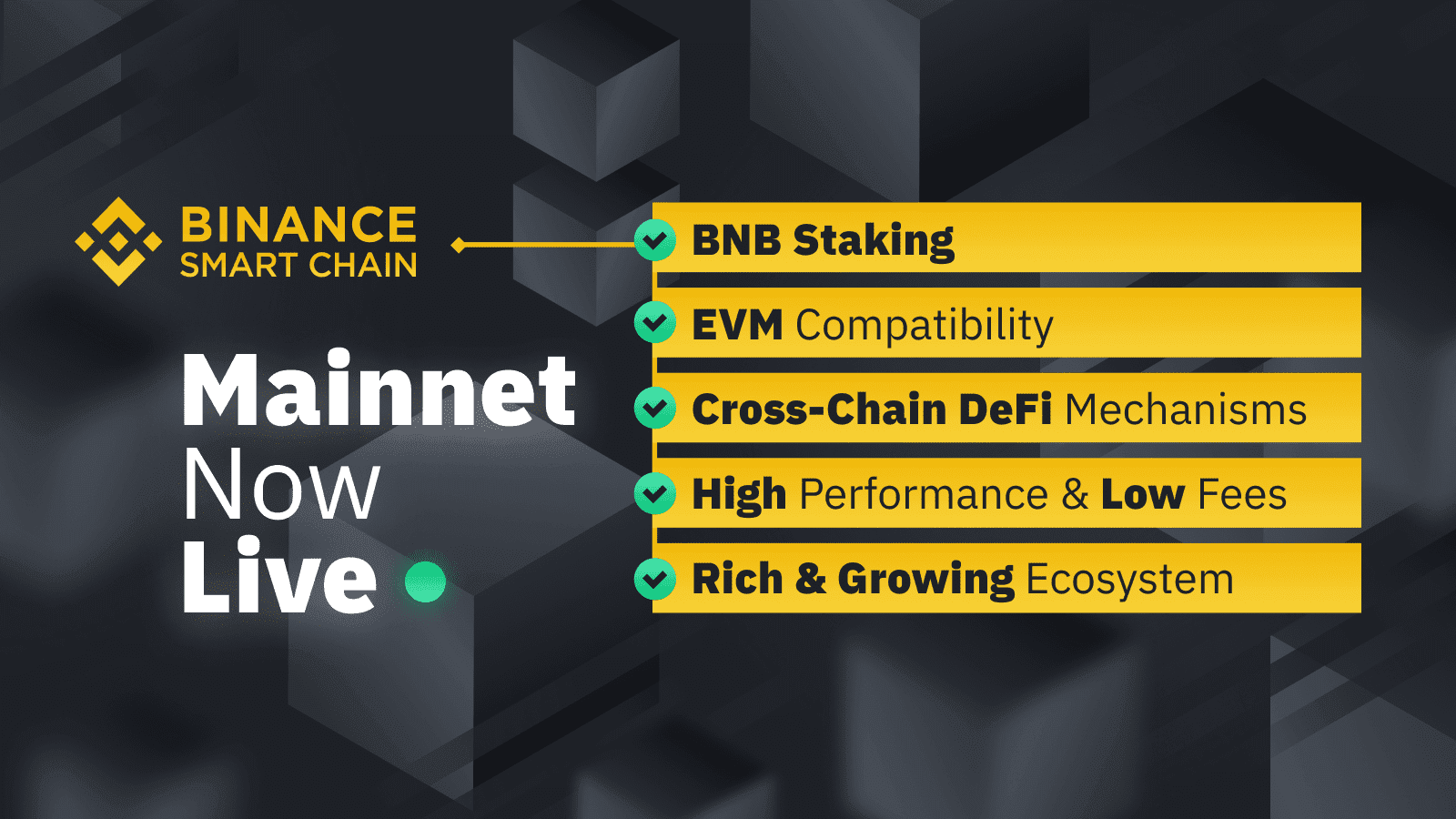 By contrast, Binance Smart Chain announced that migration from Ethereum for dApps would 'require zero or minimum changes'. In terms of technology, blocks of Binance Smart Chain are signed by 21 validators with Proof of Staked Authority (PoSA) consensus. Block time of BSC is around 5 secs. In the future, cross-chain compatibility instruments will be implemented by the BSC team.
In a nutshell, Binance Smart Chain allows the same functionality as Ethereum but avoids high fees and network congestion.
Binance Smart Chain: Applications
At press time, according to independent analytical dashboard DappRadar, Binance Smart Chain is a home for 74 applications. Actually, it is not that much: Ethereum hosts 2178 dApps, Tron hosts 1184 applications while EOS public chain runs 571 decentralized applications.
Where things get really interesting is about the 'specialization' of Binance Smart Chain. More than 95 per cent of its dApps belong to the hottest sector of dApps, i.e. to decentralized financial protocols (DeFis). And that's the point: Binance Smart Chain benefits from the ongoing wave of DeFi euphoria.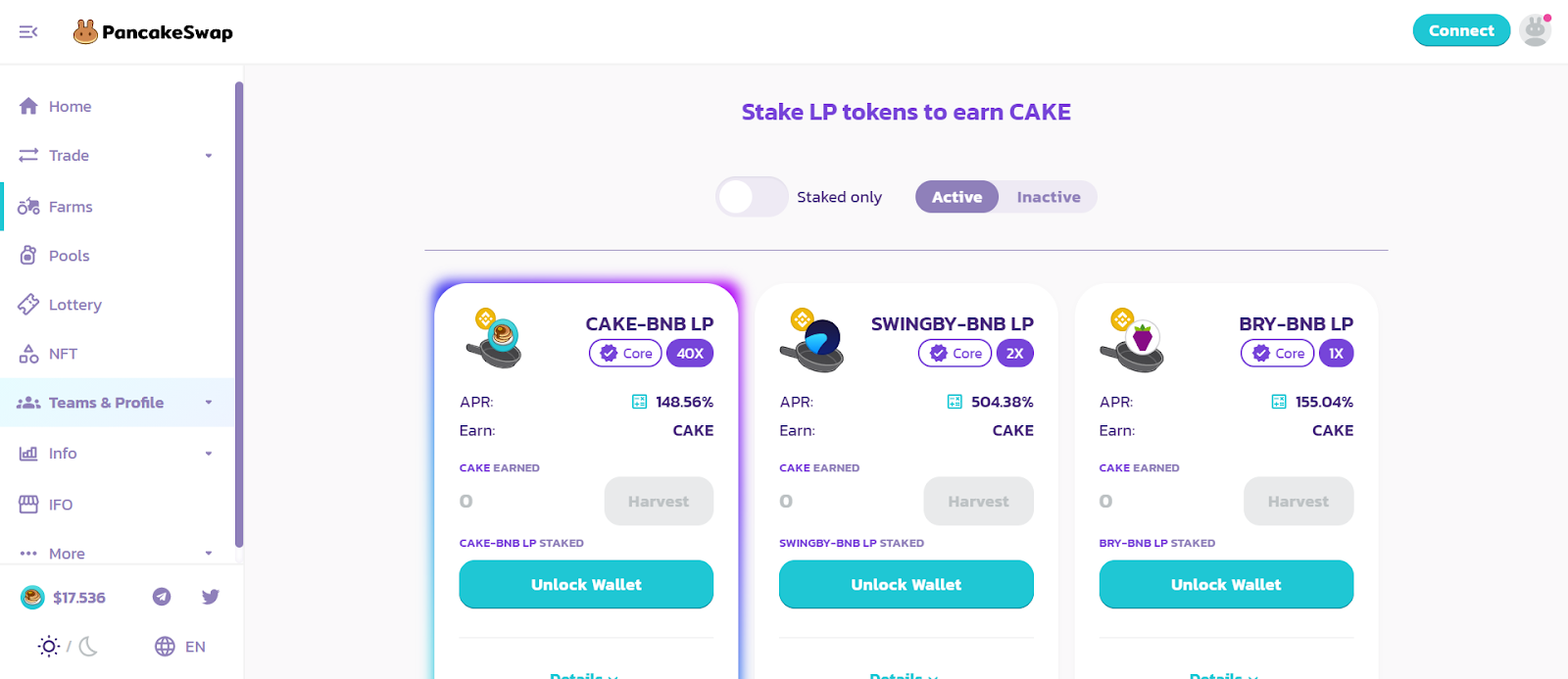 Its most popular application is Pancake Swap, the automated market maker and 'yield farming' platform. It closely resembles the Uniswap model: actually, it is a DEX with the options of earning on idle liquidity. Its 'total value locked' metrics has broken above $10B while daily trading volume inches closer to $1,5B/day. Just like UNI on Uniswap, it has its own native governance asset Cake (CAKE).
Binance Smart Chain: Criticism
Typically, Binance Smart Chain is criticised for 'centralization'. Competitors and Ethereum maximalists insist that the whole team of 21 validators is controlled by Binance. For instance, OKEx CEO Jay Hao stressed that Binance can interfere with the transactions on BSC, so it is a 'ghost chain' that has nothing to do with decentralization.
Also, some critics are sure that Binance subsidies network fees on BSC – and this is the only reason for its attractiveness compared to Ethereum.
However, Binance's Changpeng Zhao isn't new to such attacks. 'Haters gonna hate' motto works perfectly for him. Binance Smart Chain has already established itself as a reliable, high-performance, low-cost dApps hosting mechanism.
Now you can try its instruments with GetBlock API integration on a par with 40+ other top-tier blockchains.