Lido Finance is a popular staking solution for Ethereum and other leading networks, namely Solana, Polygon, Polkadot, and Kusama. As the Ethereum network approaches its big Merge day, Lido is already providing liquidity to ETH 2.0 assets with no limitations imposed.
What is Lido Finance?
Launched in late 2020, Lido has recently made its name as one of the most prominent Ethereum staking solutions. First and foremost, the platform does not require 32 ETH for stakers in order to participate in the protocol activities. Users can forward any amount of ETH to one of the 21 node providers trusted by Lido and receive an appropriate reward in exchange.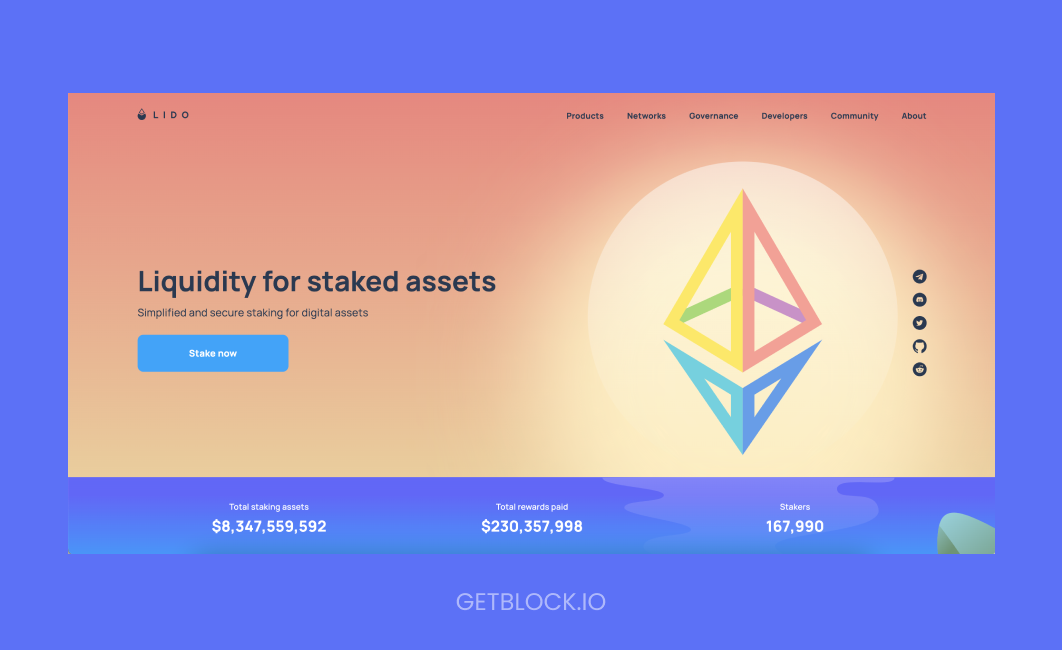 Lido Finance not only allows users to stake any amount of ETH but also to deploy tokenized assets (stAssets) on DeFi applications. The intertwined feature has attracted heaps of new activity to Lido.
When stakers deposit ETH through Lido, they receive the desired amount of stETH - the native token, validated with the help of nodes.
Lido strives to make Ethereum staking efficient and profitable for all users and reduce the possible side effects.
Ethereum staking explained
Cryptocurrency staking is the ability through which users can earn passive income in exchange for locking tokens. This way of generating yield has come to the attention of crypto holders around the time the Proof-of-Stake (PoS) consensus mechanism was first introduced. PoS ensures that validators (stakers) get a certain amount of rewards over time for holding the network's native digital assets and creating verified blocks of data.
When it comes to Ethereum, the popular network is currently in its last development stages of transitioning from Proof-of-Work to Proof-of-Stake - the process known as the Merge, with the finishing touches scheduled for September 19. Ethereum staking is an act of earning rewards and keeping the network secure. However, users are required to deposit 32 ETH in order to get validating abilities through the network's very own Beacon Chain.
With the Merge coming up next month, Lido might be on its way to dominating Ethereum's staking ecosystem.
GetBlock Ethereum nodes are 100% ready for the transition towards Proof-of-Stake. Our shared and dedicated nodes for Ethereum are designed to supercharge dApps and DeFis with reliable connection to the largest smart contracts platform.
Ethereum APIs with GetBlock are available for both mainnet and testnet. GetBlock clients enjoy 99% uptime when working with Ethereum nodes through JSON RPC and WebSockets (WS) methods.
To integrate Ethereum nodes' endpoints today just log in to your GetBlock account and choose our shared or dedicated nodes solution.
Should you need custom settings, please, reach out to our customer care team.
Lido Finance: Main Features Analyzed
Lido Finance users receive daily staking rewards at a 1:1 ratio, representing ETH and stETH respectively. Lido does not have a minimum deposit or a set lock up period for staking; however, it comes with a 10% yield fee.
The APY (Annual Percentage Yield) decreases as the amount of stETH grows. Nevertheless, the APY is flexible and can change on a frequent basis.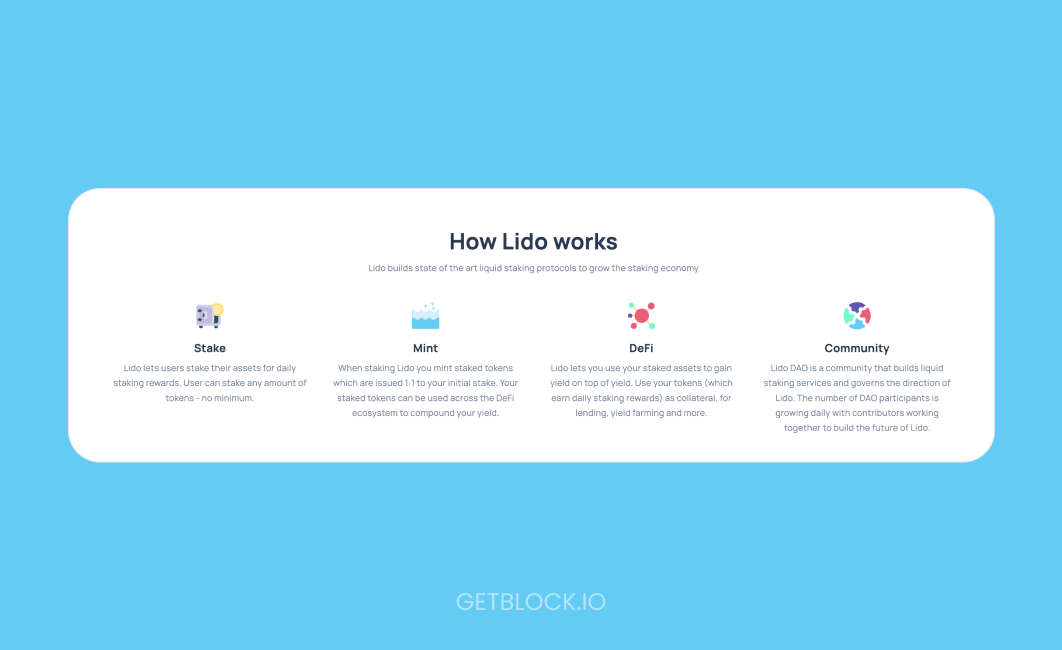 Many analysts point out that staking on Lido comes with minimum risks and downsides, as users get to keep full control over their assets.
As of recently, Lido has also introduced L2 staking for stETH. The new upgrade comes with even lower gas fees and a more robust DeFi ecosystem.
Lido is launching stETH on Layer 2 🏝️

Ethereum is scaling, and so is Lido.

Lido stakers will soon be able to use their stETH assets in DeFi on Layer 2.

Read more about it here: https://t.co/QCsQry4V41

July 18, 2022
Lido staking advantages
No limit requirement
One of the most obvious benefits that comes with staking by using Lido Finance is the absence of the staking introduction fee (32 ETH), as this is not the sum of money an ordinary user or beginner in crypto technology is normally ready to spend on staking at first (at the time of writing 32 ETH is equal to roughly $54,000).
DeFi compatibility
What's more, the ability to implement stETH in DeFi activities is another major advantage offered to Lido users. The protocol, therefore, highlights top-notch flexibility and efficiency as its main priorities.
Daily rewards
Lido ensures the risk of losing stETH is minimized and users gain staking rewards on a daily basis, even with no tokenized assets locked.
Lido ETH risks
Vulnerability to security attacks
However, there are some risks to consider before you start crypto staking with Lido Finance. First and foremost, any network with smart contract support, including Ethereum, could be subject to security malfunctions, resulting in Lido's vulnerability to hacks.
Possibility of delays
Besides, the Ethereum 2.0 network is yet to officially launch, meaning delays are still a possibility. Given the fact that the protocol could potentially gain control of over 50% of all staked ETH, some experts believe that Lido brings unnecessary centralization to the Ethereum network, and the delay could significantly undermine the effectiveness of the platform.
Therefore, it is advised you do your own thorough research before trusting your funds to any service.
How Lido ETH staking works
Here are five easy steps you can take to stake Ethereum with the help of Lido Finance:
Go to Lido.fi and click 'Connect Wallet'.
Select the option you like and take a look at your ETH balance.
Enter the amount of ETH you want to stake.
Press 'Stake'.
Confirm the transaction in your wallet.
Final thoughts
Lido Finance has already established its name as a lucrative option for both beginners and professionals to benefit from staking ETH 2.0. The protocol could, in fact, become the biggest player in ETH staking ecosystem once the Merge is complete.
Although Lido comes with its own downsides, it is generally a low-risk platform for global users to generate real passive income from Ethereum and crypto staking. Thanks to Lido's user-friendly interface and generous rewards, Lido is taking up a key spot in crypto space.
FAQ
How to stake ETH on Lido?
In order to stake ETH on Lido Finance, you are required to have a decentralized wallet. Step two would be to determine the amount of ETH you wish to stake. Go to lido.fi or install the Lido mobile app, connect your wallet to Lido and confirm the transaction. Rewards are available daily.
Is staking your ETH a good idea?
According to crypto experts, it could be a good idea to stake your ETH, as many users utilize staking as a way of generating passive income.
Is Lido a DeFi?
Lido Finance is a DeFi application. Lido allows users to stake and deploy stETH in DeFi activities.
How does Lido make money?
Lido automatically applies a 10% fee on the earned rewards generated by each user.