Please, note that any information provided below is for informational purposes only and should not be treated as investment or financial advice of any kind.
On April 22, a flagship cryptocurrency started expanding its painful drop-down. In a few hours it erased 11 per cent. Its price bottomed (?) below $47,500 which is close to early March lows. Should we brace ourselves for more blood on the streets? And who is to blame for this evangelical carnage?
Joe Biden pushes crypto market capitalization below $1,9T
Bitcoin (BTC) hadn't even gotten over its Sunday collapse below $50,500 when new bearish signals sent it to fresh lows. Yesterday, the U.S. President Joe Biden confirmed his idea of increasing the capital gains tax for the wealthiest Americans.
According to his rhetorics, those U.S. citizens who earn $1,000,000+ per year should be eligible for almost 40% tax. Both stocks and crypto markets collapsed on these news.
S&P 500 lost more than 1,1 per cent in no time while Bitcoin (BTC) lost $5,000 nose-diving from $55,500 to $50,000.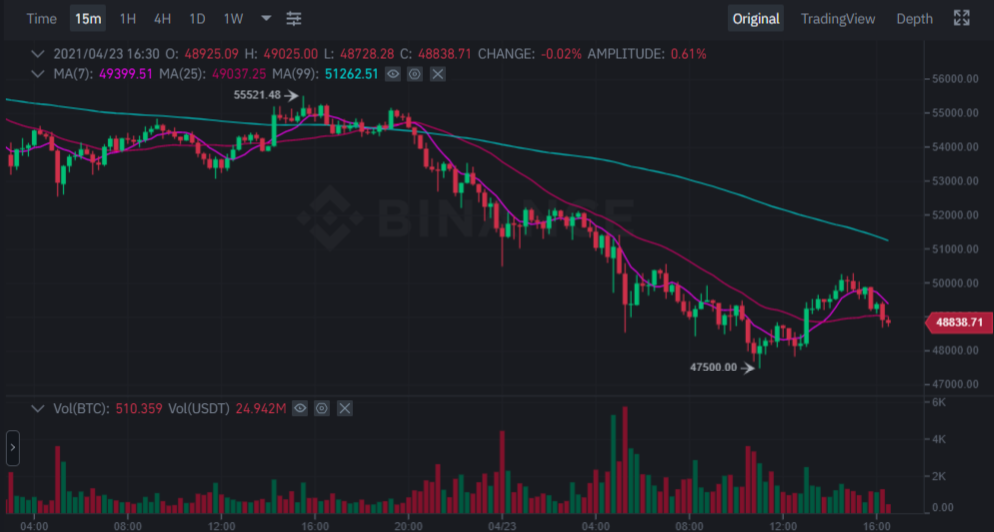 Tether FUD gets back?
Yesterday, in early morning hours (UTC timezone) the next portion of alarming news suppressed Bitcoin (BTC) to the levels unseen from Mar.1 which is equal to eight-week lows.
Leading U.S. exchange Coinbase decided to add 'troubled' stablecoin U.S. Dollar Tether (USDT) to its trading suite. USDT was under regulatory scrutiny for years, so this step is incredibly risky for Coinbase's CEO Brian Armstrong.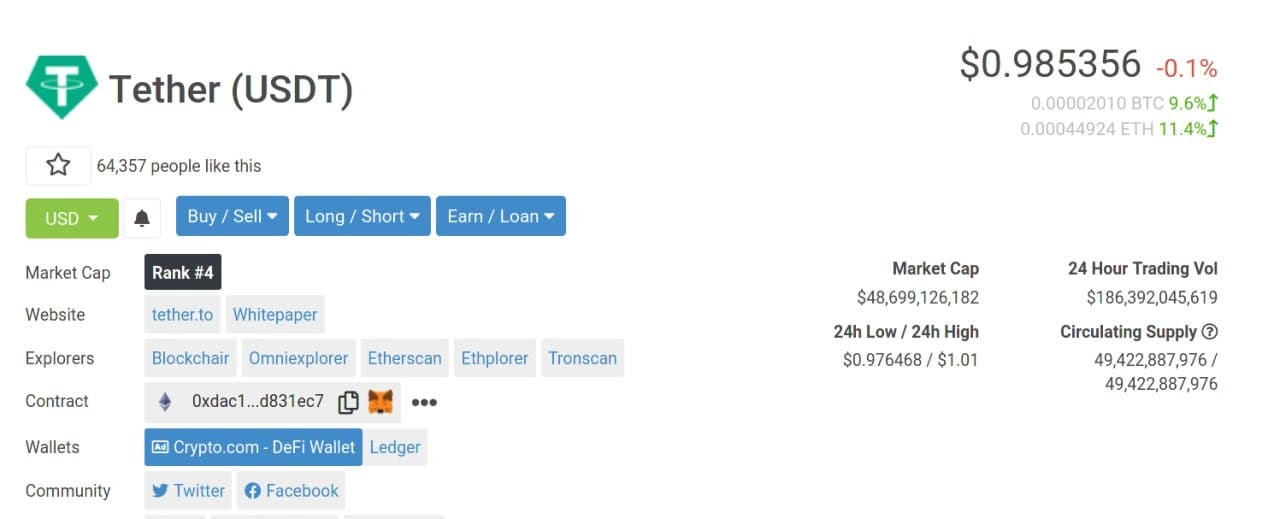 Image by Coinmarketcap
To understand the effects of this addition, we need to note that USDT lost its peg to the U.S. Dollar for the first time since Black Friday in Crypto (Mar.13, 2020). It was changing hands at $0,98 on major spot exchanges that resulted in dangerous arbitrage opportunities.
Which 'dip' should be considered healthy in such a bullish run?
Meanwhile, seasoned traders and Bitcoin (BTC) maximalists always treat every 'dip' as a good opportunity to increase their crypto holdings.
If you're interested in 'buying' this 'dip', please don't overlook what our partners in SimpleSwap are offering. Their exchange allows you to buy a plenty of cryptos including Bitcoin (BTC), Ethereum (ETH) and Ripple (XRP) with other tokens or credit cards. Also the guys launched an amazing affiliate program and loyalty campaign.
Typically, traders and investors claim that 35-40 per cent retraction from local top ($64,500 by printing time) looks 'healthy' and programmed for them. During 2013 and 2017 bull runs, Bitcoin (BTC) witnessed 5-6 BTD opportunities secured by a 20-week moving average from the bottom.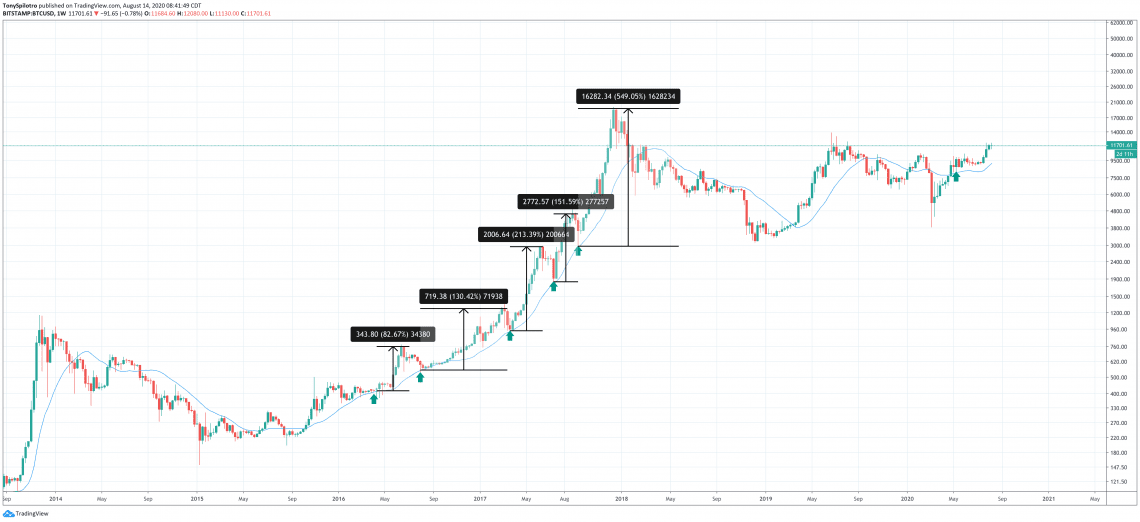 Image by TradingView
Should history repeat itself, Bitcoin (BTC) bulls may not be worried until a king coin plummets below $38,000.
But actually this would be a very painful scenario, in particular for those who trade with leverage.