Even being controlled by bears, Bitcoin (BTC) price managed to reach weekly highs on the positive announcement from the U.S. regulators.
Fed keeps super-low interest rates, Bitcoin rallies
Yesterday, on December 15, 2021, the Federal Reserve of the United States issued another Federal Open Market Committee (FOMC) statement. The U.S. regulator decided to slightly increase the interest rate and curtail its bond-buying program next year.
Earlier, it was announced that the U.S. Governance will continue the politics of 'QE', i.e. to increase the number of fiat dollars in circulation.
These announcements catalyzed the price of Bitcoin (BTC), some major altcoins, and top-notch technical U.S. stocks.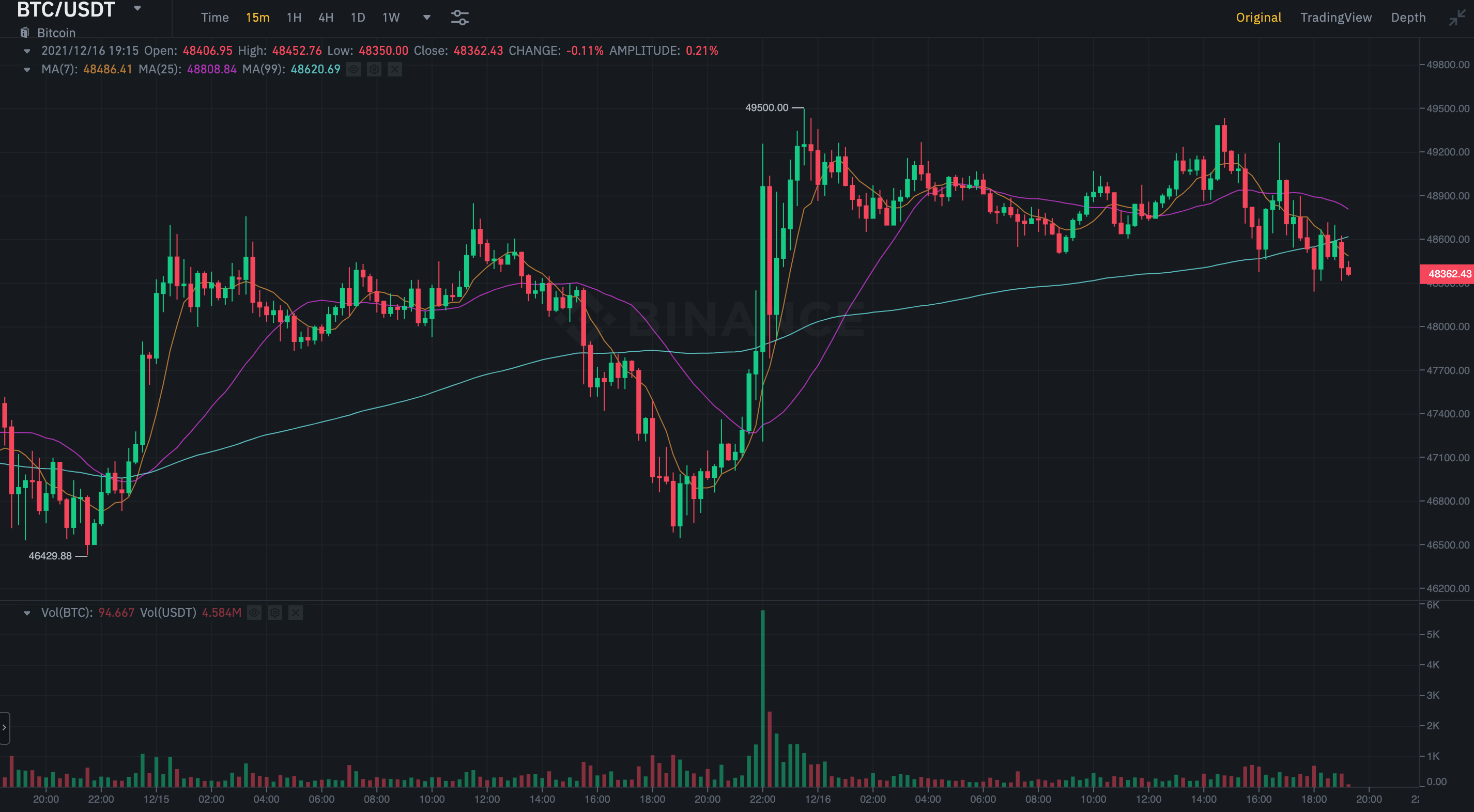 Image by Binance
In almost no time, Bitcoin's (BTC) price jumped to its local high of over $49,500 adding 6,3% in two hours.
Ethereum added 12,45% during the same period. On Fed announcements, Ether's price jumped from $3650 to $4100 but instantly retraced.
Coinbase and Kraken are not allowed to advertise their instruments in the U.K.
The Advertising Standards Authority, a core United Kingdom regulator in the sphere of antitrust and advertising policy, issued a number of rulings to prevent crypto heavyweights from running their ads in the country.
Namely, the largest crypto exchange in the U.S., Coinbase, veteran CEX, Kraken, multi-asset trading platform eToro, CIS crypto exchange mogul Exmo, crypto broker Coinburp and Luno crypto service can't advertise their services in Great Britain anymore.
As per the texts of rulings, all services mentioned were banned for 'irresponsibly taking advantage of consumers inexperience and for failing to illustrate the risk of the investment'.
As such, British watchdogs banned the crypto heavyweights for failing to explain the possible risks of purchasing cryptocurrencies. Also, some of the services illustrated their advertising videos with too short disclaimers. Other platforms failed to explain that the past performance of Bitcoin doesn't guarantee its future gains.
Crystal Blockchain: Hackers stole over $12 billion in crypto from 226 exchanges
According to the latest report shared by analytical platform Crystal Blockchain, since the invention of cryptocurrencies, hackers have managed to steal more than $12 billion from attacked services.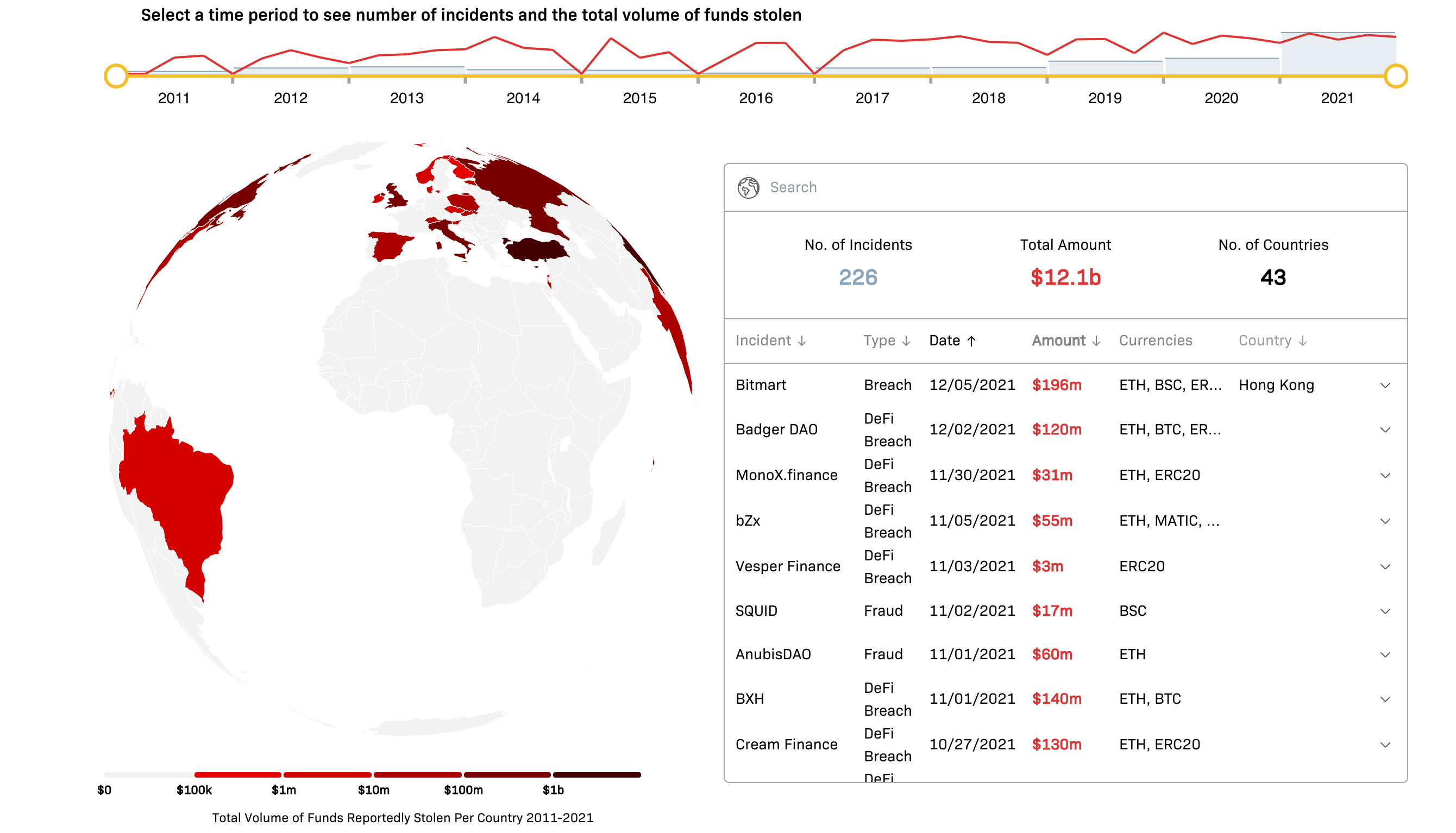 Image by Crystal Blockchain
In total, over the last 10 years, malefactors performed 226 successful attacks. Crypto-centric services from 43 countries were targeted by hackers. Unfortunately, both the number of attacks and cumulative losses of their victims grow year by year.
Out of 226 accidents, in 120 cases the malefactors hacked the security systems of centralized exchanges, 73 DeFis have fallen victims of 'flash-loan' attacks and rug pulls while the teams of 33 projects pulled exit-scams.
More than one-third of these attacks took place in 2021. The largest hack ruined Japanese crypto exchange Coincheck: hackers drained almost $0.6 billion in XEM tokens.
In August 2021, an anonymous hacker had gained control over $616 mln from Poly Network protocol but then returned all funds excluding bounty reward.