While Ethereum (ETH) fees are going ballistic yet again, maybe, the time has come to let 'decentralization' go?
Typically, when choosing the platform for decentralized applications (dApps) hosting, the 'golden' set of things to look at includes speed (bandwidth, block time) transaction costs, developer experience. Here's how a corporate chain can outperform the 'world computer'.
Basics
Ethereum (ETH) is the world's pioneering programmatic blockchain. Launched in 2015 by Vitalik Buterin, Gavin Wood and Charles Hoskinson, it allowed users to deploy and run 'smart contracts' and utilize decentralized computational power for their execution. Its native asset is called 'Ether'. There are a plethora of Ethereum-based tokens that belong to ERC-20, ERC-777 and various standards.
Binance Smart Chain (BSC) was proposed by Binance's CEO Changpeng Zhao in 2020 as a smart contract environment that addresses the problems of high transactional costs and low speed.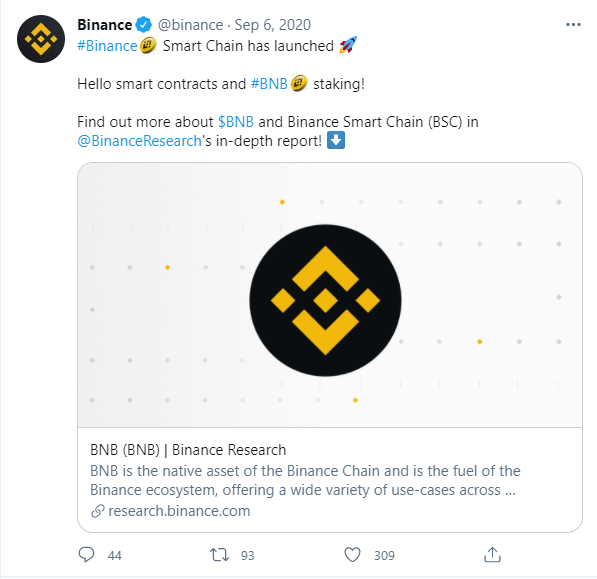 Image by Twitter
It is fully Ethereum (ETH)-compatible, so developers familiar with Solidity Ethereum-native programming language can easily move their dApps to BSC. Binance Smart Chain Mainnet was activated in September 2020 with much fanfare.
Consensus
At press time, Ethereum (ETH) utilizes Proof-of-Work consensus secured by the Ethash mining algorithm. It means that its transactions are appended to the blockchain by decentralized computations of Ethereum miners. Now Ethereum (ETH) miners calculate more than 423 billion hashes per second: Ethereum has never been so secure.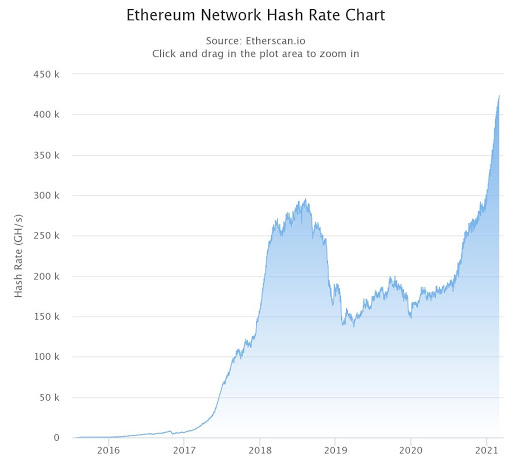 Image by EtherScan
Starting from December 2020, Ethereum 2.0, the next iteration of Ethereum protocol, started its roll-out. It will use sharded Proof-of-Stake consensus: the entire network will be split up to a web of interconnected shards and transactions will be validated by ETH stakers instead of miners.
Binance Smart Chain uses Proof-of-Staked-Authority (or PoSA), a version of Proof-of-Stake consensus where participants stake BNB to become validators. If they propose a valid block, they'll receive transaction fees from the transactions included in it. Critics of Binance Smart Chain reiterate that all BSC validators are controlled by Binance itself.
dApps and DeFis
The main purpose of all programmatic chains is the hosting of decentralized applications (dApps), including decentralized financial protocols (DeFis). Right now, there are 4546 decentralized applications running in the crypto segment, according to leading explorer DappRadar. 2189 of them are running on top of Ethereum (48,1%). Binance Smart Chain is a home for 145 dApps or 3,2% of all applications.
Meanwhile, Binance Smart Chain profile looks way more 'DeFi-focused'. Out of 383 DeFis, 157 (41%) are based on Ethereum (ETH) while 109 DeFis use BSC (28,5%). As a result, despite Ethereum's adoption being much more impressive, in the DeFi corner two chains are competing.
Flagship applications of both chains (Pancake Swap and Uniswap) belong to the decentralized exchanges (DEXs) segment.
Fees
The problem of high fees is an obvious Ethereum's sore spot. Amidst Ether price rallies, median Ethereum (ETH) transaction costs $20. Except for microtransactions, one 'normal' Ethereum (ETH) transfer, therefore, took $100-$150 to be included in the blockchain.

Image by BitInfoCharts
Fees on Binance Smart Chain are almost negligible and very rarely surpass $0.1 per transaction. Malicious tongues are accusing Binance of subsidizing them to promote Binance Smart Chain and lure developers, but now the fact is: using BSC for your dApp is really cheap today.
Bottom Line
Actually, the choice between Ethereum (ETH) and Binance Smart Chain (BSC) is more about philosophy. With BSC, you can't avoid obvious 'corporate chain' trade-offs: centralization, the shady process of validation, suspiciously low fees, etc. Ethereum (ETH) is the most decentralized and secure programmatic blockchain ever, but it becomes too expensive and slow.
So, Binance Smart Chain looks like a platform of choice for early-stage projects who are not ready to pay for decentralization that much.