Most overhyped memetic dog-coin Shiba Inu Coin (SHIB) is back to surging as its breaks multi-week downtrend.
Shiba Inu Surges 38% in One Day: Main Reason
As Bitcoin (BTC) and other cryptos managed to stay above crucial psychological levels in the last dropdown, some coins are already targeting new highs.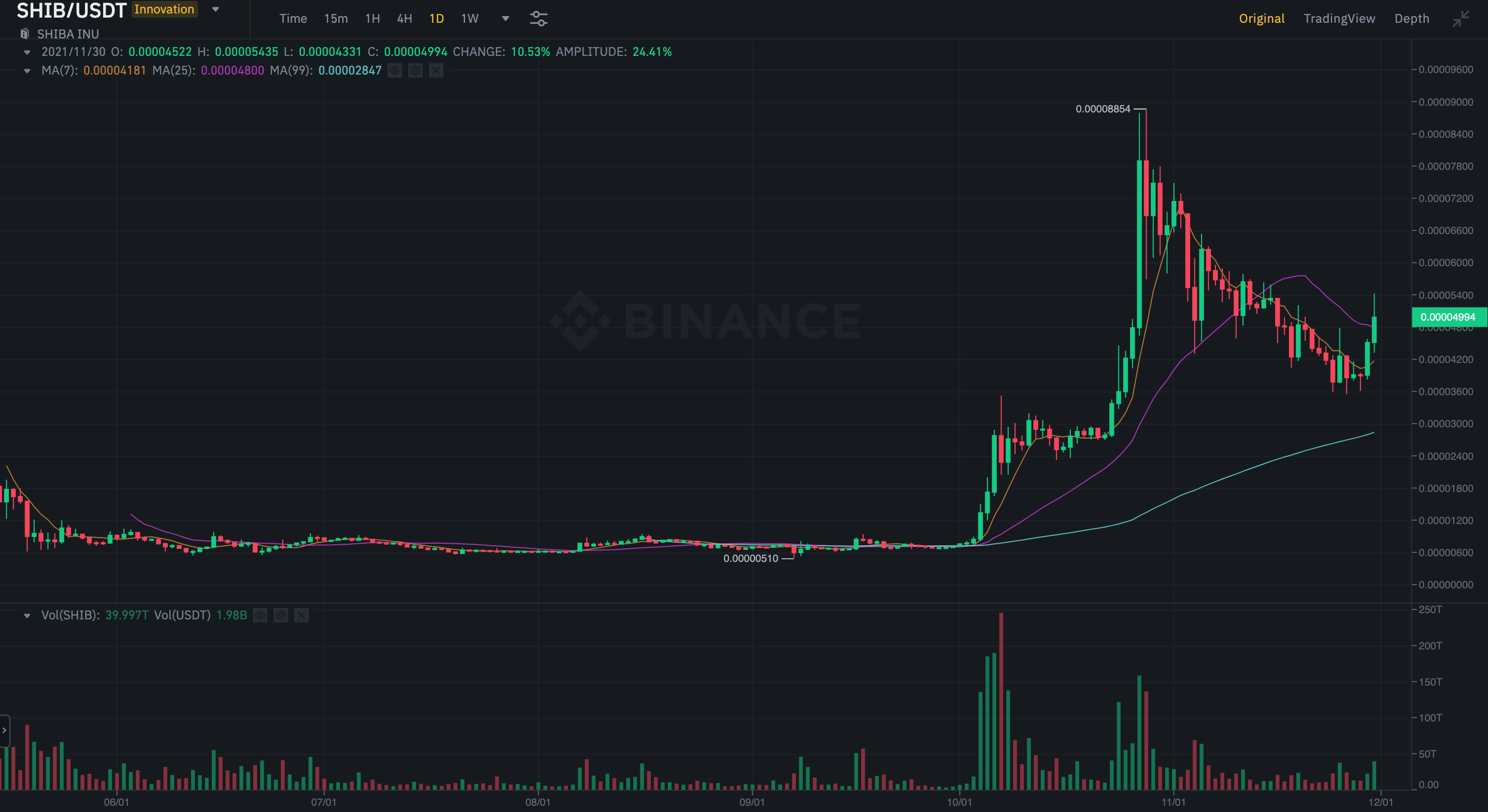 Image by Binance
Shiba Inu Coin (SHIB), a memetic 'canine' token, gained more than 38% in the last 24 hours. Its price rocketed from $0.00003880 to $0.00005401 in a matter of hours. As such, it is the best performing coin in the Top-100 of assets by CoinMarketCap.
New Listing on Kraken: @Shibtoken 🐶$SHIB deposits begin NOW! Trading is live November 30.

➡️ Learn more: https://t.co/yUUKaBXKBq pic.twitter.com/L2IUHugyG0

November 29, 2021
This rally is driven by the only catalyst. Veteran centralized cryptocurrency exchange Kraken finally decided to add Shiba Inu Coin (SHIB) to its trading suite. At launch, SHIB is only available in the spot trading module; minimum deposit for SHIB balance is $16 while minimum trading volume for one order is $2 in equivalent.
This announcement is an outstanding one as a number of major exchanges avoided listing SHIB due to regulatory concerns.
Binance CEO Named Richest Chinese by Local Media Outlets
According to the latest ranking published by China Caijing, CEO and founder of leading centralized cryptocurrency exchanges Binance (BNB) Changpeng Zhao, is now the richest Chinese in the world.
The outlet estimates its net worth at $90 billion. These calculations are based on an assumption that CZ holds 30% stake in his company. However, this monstruos share is unconfirmed. Recently, Wall Street Journal valued Binance at $300 billion.
In this ranking, CZ surpassed owners of Chinese digital heavyweights Nongfu, ByteDance and Tencent.
Iconic business media outlet Forbes estimates net worth of CZ at $1,9 billion.
In his previous interviews, Changpeng Zhao repeatedly mentioned that he owns Bitcoins (BTC) and Binance Coins (BNB) and avoids holding fiat currencies. CZ bought his first Bitcoin (BTC) at $600 and never sold one.
Various speakers came up with different estimations of CZ's net worth. Chinese research institute Hurun claims Binance CEO's worth is $8 billion while The Block's Larry Cermak hints at $40 billion.
NFTs with Snoop Dogg's Photos Reaches $770K Valuation
American rap singer Snoop Dogg released Decentral Eyes Dogg NFT drop on a top-tier marketplace SuperRare.
DECENTRALIZED DOGG IS NOW LIVE ON @SuperRare https://t.co/AnaBMa1aHQ

November 29, 2021
Number of pictures with the portraits of Snoop Dogg are available for sale now. Maximum bid for one NFT is over $169 Ethers by printing time. This sum is equal to eye-watering $770,000.
As per the comment by the artist, the NFTs allow its owners to see the crucial moments of Snoop Dogg's career with his own unique comments. Prominent digital artist Coldie is the partner of this drop.
Snoop Dogg is the most passionate celebrity NFT collectioner. Under the nickname of Cozomo de' Medici, he owns 249 tokens including nine super-rare CryptoPunks. His collection is estimated at almost $18 mln.