Please, note that any information provided below is for informational purposes only and should not be treated as investment or financial advice of any kind.
Binance Coin (BNB) is a core native asset of Binance, world-leading cryptocurrency exchange. It is a backbone of Binance's tokenomics and a symbol of its solid community. Is BNB more about hype or revolution?
Early days of BNB: idea and tokensale
Cryptocurrency exchange Binance was launched by Changpeng Zhao, one of the most mysterious crypto entrepreneurs and visioners ever. Mr. Zhao, mostly known as 'CZ' is a former software developer of Tokyo Stock Exchange (TSX), contributor to Blockchain.info and CTO of OKEx cryptocurrency trading exchange.
In 2017, he invested his entire unparalleled technology and business in newly launched Binance, one-for-all crypto exchange. Due to ever-increasing regulatory scrutiny, he changed a number of jurisdictions: now different departments of Binance are incorporated in a variety of offshore jurisdictions.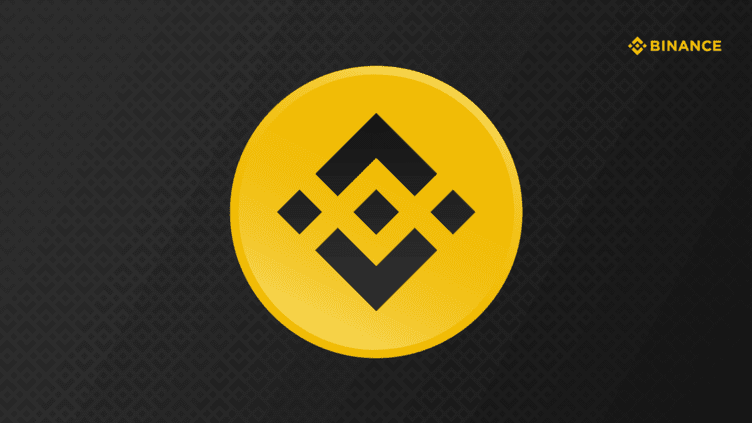 Image by Binance
In these blessed days of previous cryptocurrencies bullrun, initial token offering (ICO) was the only form of public tokensale. To fuel the first stages of Binance (BNB) development, CZ announced the ICO of BNB with $15 million in 'hard cap'.
Amidst insane nine-digit ICOs of late 2017, BNB tokensale looked mediocre: Binance raised $15M in 21 days. $0.1 was the ICO price of Binance Coin (BNB).
Breakthrough of Binance, rally of BNB
Since its early days, Binance Coin (BNB) was promoted as an integral part of the rapidly growing Binance ecosystem. Its holders were offered a significant discount on trading fees compared to those who preferred to pay them in USDT or BTC.
Then, Binance (BNB) introduced the concept of 'transactional mining'. Binance pioneered periodical burning of fees: the exchange team guaranteed to destroy the part of tokens generated by fees. According to Binance whitepaper, its team plans to destroy 100M BNB out of 150M issued. Thus, BNB was the deflationary asset since its very early days.
Needless to say, its price witnessed the powerful catalysts during its entire history. However, the progress of Binance exchange itself became the most influential one.
Starting from early 2018, Binance is the largest cryptocurrency exchange in the world by trading volume. It evolved into a one-stop ecosystem both for widespread cryptocurrency services (spot and derivatives trading, staking, decentralized platform - Binance DEX, peer-to-peer trading module Binance P2P, Binance USD (BUSD) stablecoin, lending/borrowing instruments and so on) and exotic solutions (Binance Education, Binance Charity).
It was Binance that pioneered the concept of 'initial exchange offering' (IEO), a tokensale organized through an exchange instead of the project's website. Also, Binance invested in a plethora of the most promising early-stage startups.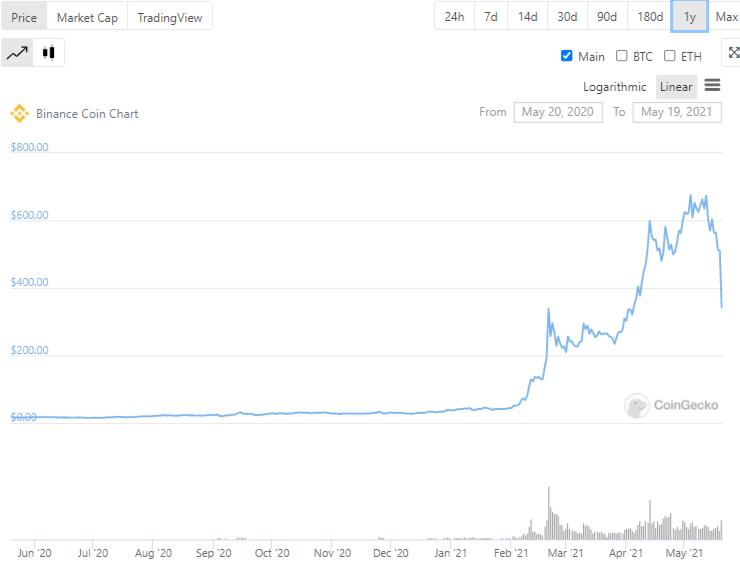 Image by Coingecko
Binance Coin (BNB) literally was supposed to happen. Just like other large-cap cryptocurrencies, it entered a parabolic stage in Q4, 2020. In 2021, it spiked 18x in four months. Its all-time high was registered on May 10, 2021 over $686 on major spot exchanges.
Prospects of BNB
So, is BNB a revolutionary token? In a nutshell, it is.
It is the first ever 'real' utility token brilliantly integrated into a successful cryptocurrencies business - not just a way to pump and sump coins pre-mined by team and 'early backers'.
It remains deflationary - Binance remains true to its guarantee of quarterly token burnings.
Its 'intrinsic value' increases: now it is used as a gas token for Binance Smart Chain, the most dynamic smart contracts ecosystem in the world.
To sum up, it took four years for BNB to evolve into the most promising large-cap token associated with retail crypto business.