Despite a painful bearish recession on crypto markets, Web3 segment registered a record-breaking number of hacks and attacks. Two out of five largest data leaks of 2022 targeted cryptocurrency services. Here's why privacy issues are in focus for both products and their users.
In December, 2022, GetBlock rolled out its most impressive privacy upgrade so far. Being on the bleeding edge of data protection, GetBlock implements 'Web3 authorization' through an Ethereum (ETH) wallet. Our privacy roadmap addresses maximum pseudonymization of users data.
GetBlock adds registrations through crypto wallets
Starting this month, users of GetBlock, a leading provider of blockchain RPC endpoints to 50+ networks, can set up an account using nothing but a cryptocurrency wallet. As such, sharing email addresses or other sensitive data isn't required any longer to start using blockchain nodes.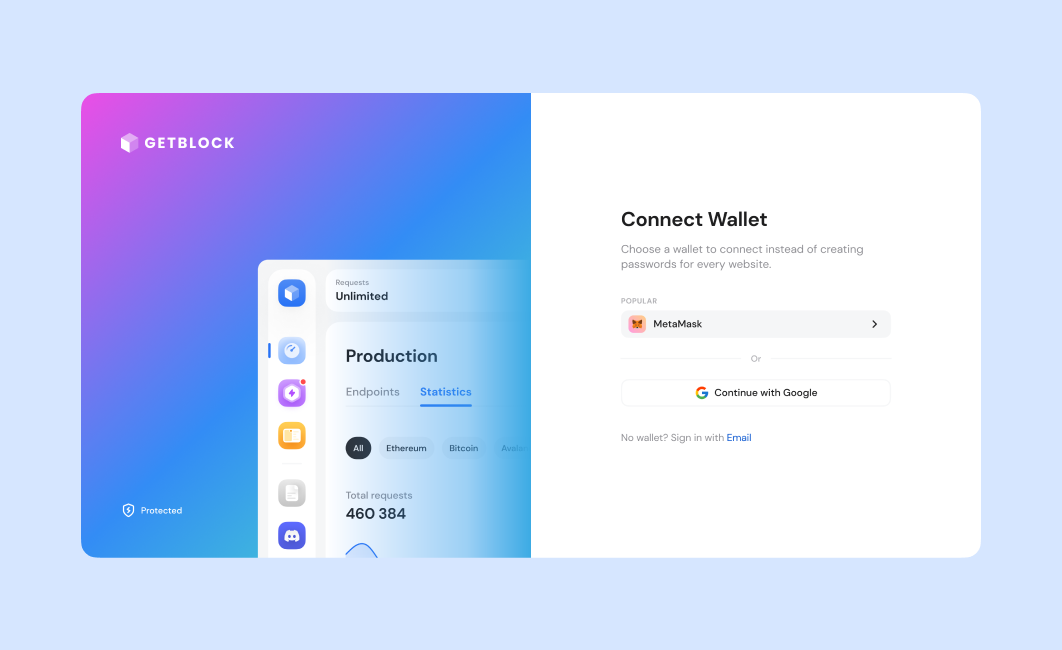 Image by GetBlock
This update is aligned with key principles of Article 5 of the General Data Protection Regulation (GDPR), in particular - with Data Minimisation rule:
Data Minimisation: Processing of personal data must be adequate, relevant, and limited to what is necessary in relation to the purposes for which they are processed. Personal data should be processed only if the purpose of the processing could not reasonably be fulfilled by other means
Public address of a non-custodial cryptocurrency wallet isn't associated with the e-mail of its owner, let alone the phone number, credit card details, and so on. Your MetaMask address is very minimum we need to know in order to deliver our services and improve them.
Please note that we don't track the IP-addresses of our users. You can also prevent your wallet from doing so in just two minutes: check out our free guide.
From e-mail address to User ID: Shift towards pseudonymity
In its daily operations, GetBlock leverages User ID as a perfect pseudonymous way of identification. You can find your User ID in the 'Settings' menu of your user account.
We ask our customers to refer to User IDs while interacting with GetBlock's customer support team to have your issues solved as soon as possible. In our infrastructure, we utilize User ID as a reliable way to identify our clients: email addresses are encrypted and located outside our infrastructure in a secure storage.
Only accredited officers of GetBlock can access contact data of users: we track and log all requests to this database. In the future, we're going to completely cease support of email as the way of communication with our users.
More privacy features to be activated in 2023
We are always ready to listen to our users while preparing updates and now features: that's why our privacy roadmap is aimed at minimizing the amount of processed data.
That's why we champion the principles of lawfulness, fairness and transparency in data issues. For instance, since November 2022, the avoidance of IP-addresses tracking is implemented into our Privacy Policy.
In the upcoming year, we're going to develop our service with users' privacy and security in focus. Also, more cryptocurrency wallets will be available for the GetBlock authorization module in 2023.