Ethereum (ETH) testnet Goerli 'merged' successfully
According to the official announcement shared by Ethereum's (ETH) core developer Tim Beiko, The Merge update finally went live on Goerli testing network on August 11, 2022.
pandas on the screen! pic.twitter.com/0nYll6gImH

August 11, 2022
The Merge testnet activation means that Goerli started adding blocks to its network relying on the Proof-of-Stake (PoS) infrastructure instead of Proof-of-Work (PoW) one. The devs highlighted that the activation of this update went as intended.
As covered by GetBlock previously, in June-July, 2022, The Merge was activated in Sepolia and Ropsten testnets. Also, a number of 'one-time' testnets was launched to stress-test PoS mechanisms for the upcoming Ethereum (ETH).
Ethereum (ETH) mainnet migrates to PoS on September 15
Mainnet activation of The Merge is the next phase of its PoW-to-PoS transition. For the first time ever, Ethereum (ETH) core devs decided to change the date of the activation to the earlier one. As such, the update will be activated on Ethereum (ETH) nodes on Sept.15 instead of Sept.19.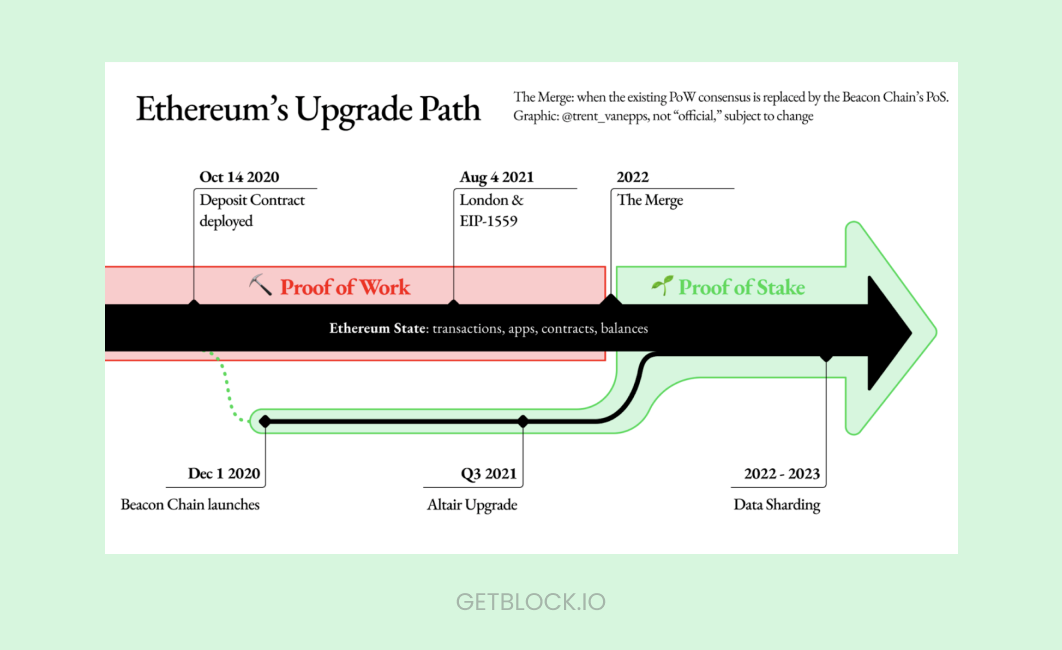 Image by Web3 University
On this day, Ethereum (ETH) beacon chain will be integrated with its deposit staking contract into a single Proof-of-Stake (PoS) ecosystem. Proof-of-Work (PoW) miners are ready to either move their hashrate to Ethereum Classic (ETC) or to support a hypothetical ETHPoW hardfork.
Ethereum (ETH) nodes by GetBlock: Meeting The Merge locked and loaded
As Ethereum (ETH) finally migrates to Proof-of-Stake, its new technical design unlocks impressive opportunities for dApps and DeFis of all sorts. Ethereum (ETH) on PoS becomes cheaper, faster and more eco-friendly than ever before.
GetBlock, a top-tier Ethereum (ETH) nodes provider, upgrades its software according to Ethereum (ETH) roadmap. As such, our clients have nothing to worry about: performance of their dApps will be left untouched by such a radical update of Ether consensus.
To integrate Ethereum nodes endpoints today just sign in to your GetBlock account and choose the shared or dedicated nodes solution. Should you need custom settings, please, don't hesitate to ping our customer support team.