GetBlock reviews the most crucial products and assets in this red-hot segment.
In 2020-2021, when Ethereum network fees spiked and the whole blockchain stuck in a tremendous overload, the time came to finally address the elephant in the room. The segment badly needed protocols that would allow it to move assets between different blockchains.
Ethereum-Polygon: Undisputed Leader
In early September, 2021, seasoned data analyst and Ethereum researcher Elias Simos decided to track the performance of the most influential players in the Ethereum bridges segment. He checked which assets are the most popular in this ecosystem and which protocols handle the largest amount of money.
As of Q4, 2021, Polygon-ERC bridge, the interoperability protocol between Polygon Network (previously Matic Network) and Ethereum is #1 in terms of total value locked (TVL) volume.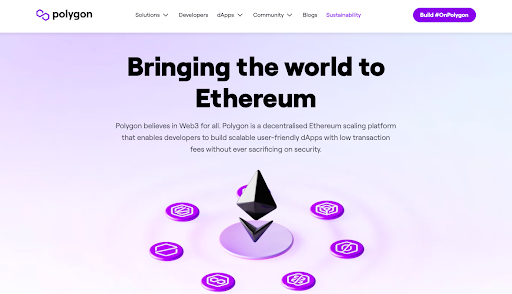 Image by Elias Simos via Dune Analytics
At its peak, Polygon-ERC20 bridge was responsible for $8 billion in total value. At printing time, it holds more than $4,3 billion.
Bridge between Ethereum and Avalanche, a high-performance blockchain with smart contracts, is the second cross-blockchain interoperability protocol by TVL. It is responsible for $2 billion in various assets.
Ethereum-Fantom bridge Anyswap holds $470 million in different assets. The three bridges mentioned are responsible for almost ⅔ of the entire Ethereum's bridges ecosystem.
So, what does this mean?
Step by step, Polygon evolved into one of the most popular and recognized smart contrasts platforms. Unmatched Ethereum (ETH) liquidity can be moved to Polygon in a blink of an eye. GetBlock offers low-cost and nearly-instant connection to Polygon (MATIC) nodes: ping our customer success team to access Polygon in testnet and mainnet.
Ethereum-Solana: Bridge for money, bridge for NFTs
As Solana exploded onto the segment of DeFis and NFTs, traders, liquidity providers and developers faced a problem of seamless and low-cost value transfers between two networks.
First-ever Solana-Ethereum bridge Wormhole was proposed in Q4, 2020. On September 17, 2021, its developers released the second iteration of the protocol in mainnet.
1/ Today we're incredibly excited to announce the launch of our Wormhole Token Bridge starting with @Ethereum and @Solana 🙌🏻 . https://t.co/iu82tYZyld

September 17, 2021
Right now, more than $250 million in liquidity is locked in the protocol: this liquidity should be moved from v1 to v2. Wormhole seamlessly integrates Solana's wallet Phantom. Terra (LUNA) blockchain and Binance Smart Chain (BSC), two more mainstream smart contract platforms, will be integrated by Ethereum-Solana Wormhole in coming releases.
Also, the separate module for cross-network NFT transfers is added to Wormhole v2. All major NFT collections such as Degen Ape Academy, Crypto Punks and so on can now be moved to Solana seamlessly.
Ethereum-L2s: Next big thing in Web3
However, the world's fastest growing Ethereum bridges connect Ethereum mainnet and its second-layer scalability solutions Arbitrum and Optimism.
According to the dashboard displayed above, the number of unique depositors into Ethereum-Optimism bridge spiked 100x in two days.

Image by Elias Simos via Dune Analytics
All Layer-Two solutions of this generation are connected to Ethereum mainnet by rollups, the mechanisms that broadcasts the reduced transactional data to mainnet. As such, we're going to see the new wave of Ethereum's L2 popularity explosion.