Bitcoin (BTC) and all major altcoins are experiencing the bloodiest dropdown in many weeks.
Bitcoin (BTC) plummets to eight-week lows, $763M in longs and shorts liquidated
Today, on November 26, all commodities, indexes and emerging market currencies are in the red zone as a new mutation of COVID-19 ('South-African') is reportedly found in Belgium, which is the first case of B.1.1.529 variant in Europe.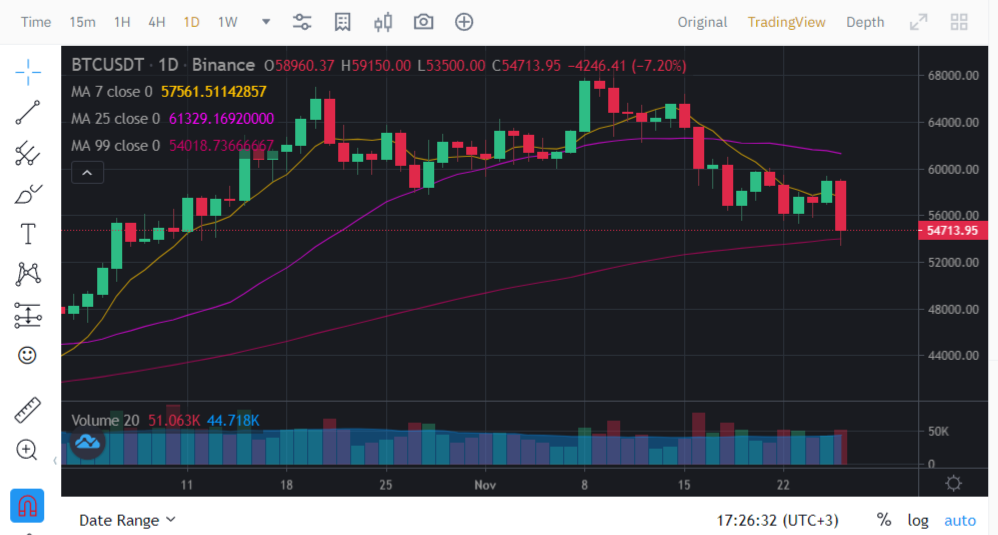 Crypto heavyweights follow the trend: Bitcoin (BTC) bottomed at $53,500 which is the lowest level since October 7, 2021. As such, an orange coin is more than 8% down in 24 hours. Net plunge since all-times high exceeds 22,4%
Ethereum (ETH) is also in red: a second crypto failed to stay above crucial support level at $4,000.
Amidst these carnage, a lot of cryptocurrency bulls have their positions liquidated in the last 24 hours. In total, the ongoing dropdown erased $763 in short and long positions. Besides Bitcoin, Ethereum, and Solana, there are two GameFi assets in the top of liquidations volume: $3.41 mln is lost by GALA holders, $2.89 mln lost by SAND holders.
Largest single liquidation is Ethereum (ETH) long position on Huobi: someone lost $16 million in one trade.
Moonbeam wins second Polkadot parachain slot, surpasses Acala
The second parachain slot auction of cross-network project Polkadot (DOT) is won by Moonbeam, an interoperable DeFi protocol. In this auction, Moonbeam surpassed Acala, a first-ever DeFi hub of Polkadot (DOT).
In total, Moonbeam supporters locked 35,7 mln DOT which is equal to roughly $1,43 billion. Acala project that won the first parachain slot auction saw 32 mln DOT secured.
Polkadot's infrastructure allows winners of its auctions to utilize cross-chain 'relay' for predetermined periods. Polkadot enthusiasts can support their favourite projects by locking DOT in favour of its crowdloan bid. In turn, the project rewards its supporters with native tokens that are unlocked during the entire period of parachain slot lease.
Moonbeam is going to start rolling out its mainnet on December 17, 2021. All contributors to its crowdloan campaign will receive GLMR tokens as rewards. To celebrate the success of the auction, GLMR rewards rate was increased by 50%.
550 Ethers for virtual land plot: record-breaking deal on Axie Infinity (AXS)
Yesterday, on Nov.25, 2021, an anonymous NFT enthusiast purchased an Axie Genesis Plot for 550 Ethers or $2,460,000. According to the announcement by the project team, it is the largest purchase of virtual land so far.
Seasoned Axie Infinity player ArcaChemist was the one who sold this NFT for an eye-watering price. The Axie Genesis plot belongs to 'super rare' category of in-game assets in Axie Infinity.
For owning these land plots, Axie Infinity players can earn Smooth Love Potion (SLP) which is the second core in-game asset of this metaverse behind AXS.
Axie Infinity is one of the most popular mainstream GameFi metaverses: its token AXS witnesses four-digit growth in 2021.