Iconic sportswear manufacturer Nike joins the corporations' race to metaverse following the acquisition of NFT studio RTFKT.
Bitcoin (BTC) prints local low at $45,600
Bitcoin (BTC), a flagship cryptocurrency, drops to another local dip below $46,000 level. An orange coin can't gain enough power to hold above $50,000 for long amidst bearish sentiment dominance on crypto and stocks markets.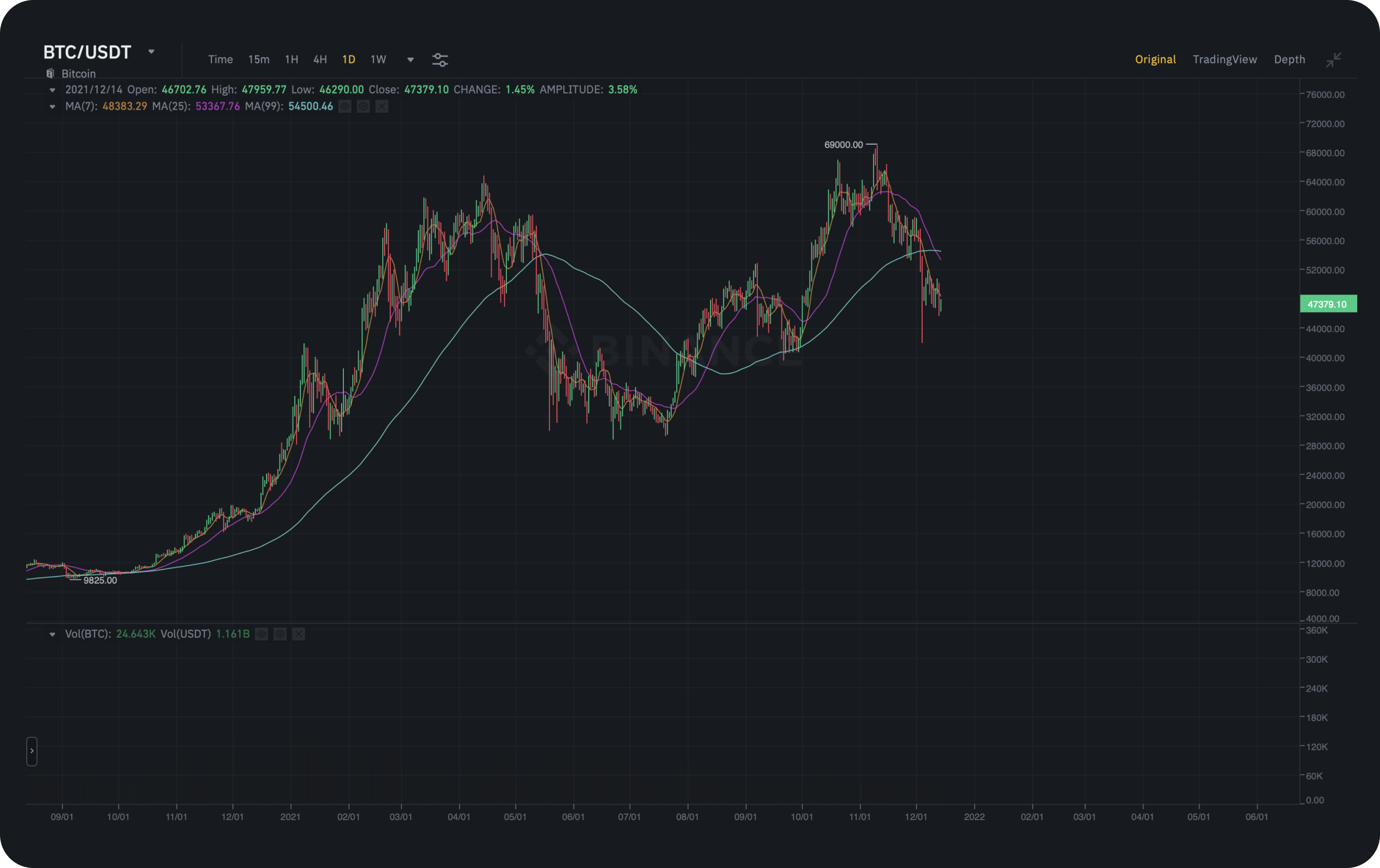 Image by Binance
Highly likely, this dropdown should be attributed to the uncertainty about the new COVID-19 variant 'Omicron' and the upcoming Wednesday's Federal Reserve meeting on inflation and asset purchases prospects of the U.S. government.
Overall market sentiment shows the first signs of recovering, While still in the 'Extreme Fear' zone at 21/100, it slightly increased in recent days.
To provide the context, it should be noted that last week, the 'Fear and Greed' index touched its multi-weeks low at 16/100 for two times in a row.
Nike acquires a16z-backed NFT team RTFKT
Nike, a leading producer of sportswear and equipment, joins the NFT bandwagon with the acquisition of RTFKT, a pioneering NFT-centric art studio and marketplace.
RTFKT is now a part of the NIKE, Inc. family. 🌐👁‍🗨 pic.twitter.com/5egNk9d8wA

December 13, 2021
Today, on Dec.14, 2021, RTFKT changed the description of its Twitter bio to "Next Gen Sneakers and Collectibles for the metaverse". As such, Nike is going to become the first global wear brand to offer its goods in the metaverse.
Together with this announcement, Nike posted two job offers for virtual material designers to reaffirm its focus on expanding its presence in the metaverse sphere.
In May, 2021, RTFKT raised $8 million in seed funding. Legendary investors Andreessen Horowitz led the round with Galaxy Digital, Ledger and Dapper Labs also backing the startup in its fundraising efforts.
It should be noticed that Nike's eternal rival Adidas has already scored a long-term partnership with the developers of the most expensive NFT collection Bored Apes Yacht Club.
Polygon implements EIP-1559 analogue in testnet
Polygon Network, an advanced solution for Ethereum (ETH) scalability and the most resource-efficient EVM-compatible blockchain, has announced the implementation of a fee burning mechanism known as EIP-1559.
Introduced in Ethereum in August, it made the fee structure of the second blockchain more predictable and fair. It destroys some ETH from transactional fees after every block. As such, sometimes, Ethereum (ETH) works as a deflationary network: it destroys more tokens than it produces.
As the first step of EIP-1559 implementation in Polygon, it will go live in Mumbai testnet. The activation of Polygon's EIP-1559 will take place on December 14 at 08:00 a.m. UTC
As per the estimations of the product's team, the new mechanism will destroy almost 0.27% of MATIC tokens annually. Both validators and delegators will benefit from the implementation of the new fees scheme.