Today, on Oct. 14, 2021, Bitcoin (BTC) price briefly touched $58,000 level. Thus, flagship crypto smashed five-months high: Bitcoin hasn't been so expensive since May 10. As such, many speakers reiterated their uber-bullish predictions.
Bitcoin, real estate, emerging markets: Top-3 by Cathie Wood
Iconic wealth manager, ARK Invest CEO Cathie Wood, stated that she is still sure that Bitcoin (BTC) is on its way to accomplishing the $500,000 milestone. Mrs. Wood claims that a crypto king will reach this goal in five years.
According to her statement at the CFA Societies Australian Investment Conference, Bitcoin looks like 'real estate in the 70s and 80s and emerging markets'.
At the same time, the ongoing wave of Bitcoin (BTC) euphoria may be still doing its baby steps. CryptoPotato's Daniel Joe indicated seven signs of this process.
The #BTC rally is just getting started.

- No signs of FOMO
- Media is barely covering #BTC
- BTC Futures ETF approval anticipated
- Earnings season coming with potential announcements of #BTC purchases by companies
- Onchain firmly bullish
- Large technical breakout
- MinersHODL

October 14, 2021
He noticed that media influence and 'noobs euphoria' are still not there, so, may more impressive upsurges are yet to come.
Polkadot's parachains are ready for launch
Cross-chain interoperability project Polkadot (DOT) is ready to achieve its most crucial milestones in months. Since the start of its mainnet roll-out in May, 2020, Polkadot enthusiasts were waiting for parachains launch.
5 years after the vision of a heterogeneous multichain framework was first outlined in the Polkadot Whitepaper, parachains are now ready to launch on Polkadot. Motion 118, to schedule the first auctions, has passed council & now gone to public referendum.https://t.co/8pt3aT4vO3

October 13, 2021
Now, Polkadot parachains are ready to go live in mainnet. Parachains should be referred to as a type of blockchains that are interoperable due to integration with Polkadot's relay chain. As such, heterogeneous networks can interact seamlessly just like blockchain of one type.
Previously, parachains were launched in Polkadot's 'sister chain' Kusama (KSM). On this announcement, Polkadot's core native token DOT rallied 25% in less than six hours.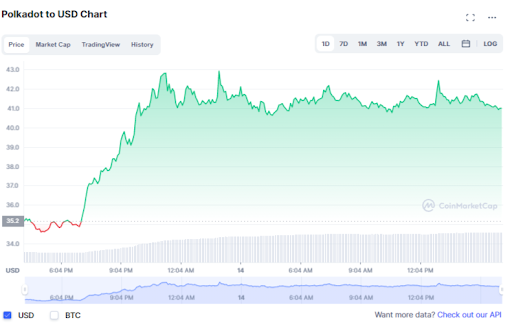 Image by CoinMarketCap
dYdX DeFi protocol amassed $100 billion in trading volume
One of the oldest decentralized finance ecosystems dYdX reported that its aggregated trading volume since mainnet launch entered twelve-digit waters.
dYdX cumulative volume has now passed $100B! 🚀🎉

Shout out to all the hedgies🦔 who made this possible

Aug Cumulative Volume: $3.4B
September Cumulative Volume: $17.8B
October Cumulative Volume: $73.9B
Next stop: $1 TRILLION 📈 pic.twitter.com/9yVObK98oa

October 13, 2021
Surprisingly, it took less than 2.5 months to accomplish this milestone for dYdX. The platform addresses decentralized exchange of Ethereum-based assets and 'yield farming' initiatives.
dYdX made headlines by its massive retroactive airdrop to early users. Also, it recently surpassed the largest centralized crypto exchange in the U.S.Coinbase, by daily trading volume.
According to DeFi Pulse dashboard, dYdX exchange is ranked #18 by aggregated TVL: the platform eyes its first billion dollars locked.